Joined

Dec 15, 2005
Messages

9,319
Location
Website
Collaborative Effort -
TheCitrusCult

|

Superbia



A little forewarning, chance of death is high, so be mindful in character.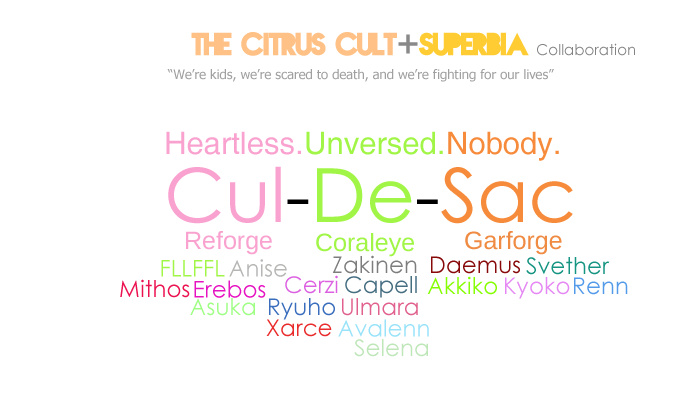 Cul

-

De

-

Sac
[
Roleplay
]
Start date: October 14, 2011
Currently TWO spots remaining!
cult only, other factions are full sorry guys.
Story​
The past, the keyblade's history has played what seems to be an important role in the time span of order. Through an unknown amount of years, long since past of previous organizations upon past heroes and enemies alike, the abundance of keys had its first spike since the first keyblade war. From the age of apprentices, to a more urban time where just normal kids with hearts strong enough to forge these mythical weapons of wonder into existence at an alarming rate. This was a completely new generation of keybladers, and with it came a new set of rules and dangers alike.
Within the world of The Cul-de-sac, children, ruffians, or just regular hoodlums they could be called ran the streets with keyblades in hand. Single wielders, but, it wasn't always a peaceful settlement for them. That constant elitist sentiment sunk into the environment, which formed different cliques, groups, gangs even. These different gatherings of keybladers would fight for territory, respect, and mainly achieving status alone. It was, in a sense, survival and at the same time they made this competitive setting quite fun.
Peace, is only so lasting. One day at the very peak our world's beauty did three strangers appear. In their marveling of our town, stumbling into the headquarters and local church of the Creative Kids, the door and heart of our world was discovered. As we had tried and tried to open this door with all the light we could muster, they introduced something we didn't possess, something greatly diminished from our world free of shadows and distorted light.
The Darkness.​
Flung open did the doors come undone, exposing us to the outside as our massive world began to break away into sections. Cul. De. Sac. These were originally sections and territories controlled by the three factions, and as the generations were now 're-introduced' by the spreading of darkness, the manifold of things began to spread out. These three were iconic, acting as the face of an individual threat more so than a combined effort. We the children, in our academy years figured our enemies as myths, legends, but they were real.
Heartless, Nobodies, and Unversed. Spread throughout our broken world, whats become of it now these massive floating remnants of our world can be reconnected, but we just don't know how to do it. Everyone's in a panic right now, and the towns people have greatly diminished, hearts were lost and its rough to even survive right now. What do you do, what are you supposed to do when you understand so little about whats even happening?
My name is Garforge, I'm the leader of the Cult of Creative Kids, and if you want my honest opinion. If we continue like this, remain as we are, then eventually those three deviants are going to eliminate us, one by one. Right now, we've found a gray area, right outside of Cul. De. Sac. There are no heartless here, just us kids, we're pretty damn scared but its a small beach and temporary HQ for us. Vagrant Oricalcos and Zeal's Call are here, even some nameless kids that happened to follow us the day of our meeting. When we were sucked into the door, we landed here...and we can actually see everything surfacing above us. We've so far managed to work but given the state of our home, anyone could become a traitor, even your own flesh and blood.
We decided we're just one faction now. Cul-De-Sac. Nothing else matters, its too soon to situate ourselves, we've agreed only to collaborate until this is over. We don't know what to expect, but our lives are on the line. From where we stood, hearts floated into the sky and we wonder, even now, will we suffer the same fate?​
Rules​
No God-modding or Power-playing (period.)
No Canons, Canon Keyblades, or Canon-offspring. We're so far ahead of the old school KH, that we don't even know the names of previous heroes.
Please do not edit your template after we've started.
I actually encourage post order and its continuity, so we're all on the same page and still interested.
Romance is allowed, keep in mind the age range of the kids that read this.
Try to be semi-literate, I'm not perfect either, but as you can see I'm making an earnest attempt.
Do not spam. I don't wanna see the OOC thread with like 5K post having idle conversation not relating to the actual Role-play.
Have fun. Put in your best effort. Lastly don't overreact if something appears really WELL DONE. I've seen too many people spaz and just loose hope, or try to gang up on a more experienced rp'er.
Keyblades
The keyblades origin all fall back to kingdom hearts. While the ones we wield now are mere fragments and pieces of what was once a much grander puzzle ultimately they aren't in the same category as the chosen three. (You don't see us cutting buildings in half and slamming them into a giant nobody dragon) The reason for this being, with such a gap in time that darkness allegedly entering worlds suddenly diminished and now in an age of peace. Access to them is not gone, its assumed they are currently lost to naught, but the truth is we don't know about the special ones, and ultimately they will make their return. You just don't know when, so don't make claims to know when until I drop the biggest hint ever.
Through an ability called Synch Blade which none of the new kids posses are keyblades enabled to be wielded outside of just a single. To obtain the Synch Blade ability, one must defeat another keyblader in battle, or to the point where its distinguished one wielder's heart is stronger than that of the others. They can then impose that strength over the other keyblader and claim their keyblade, even if the battle isn't over. Its completely pointless for a dual-wielder to attempt to fight a single wielder, they have no vacant hand to call their key.
Reclaiming keyblades/Borrowing
Just because you don't have a keyblade, doesn't mean your totally defenseless. If you have to fight with a normal weapon against someone, you can beat them, sora fighting with a wooden sword after loosing his to Riku, our keyblades are just one step above a "wooden sword" because they aren't as powerful as the chosen three. Our abilities and strengths are augmented with just a slight abnormal enhancement.
Keyblades can be lent to another, and they exchange it to their possession, willingly, but they still own it and at any time can call it back. This nature is because the heart shares acceptance and kindness and still attaches them to said keyblade. However in the case that one keyblader should 'expire' while their keyblade is loaned, the current holder will become the wielder of said keyblade.
Now since you have two keychains. Loosing your keyblade in a battle, doesn't mean your powerless. As you fight with a different weapon, the other keychain you still have will influence it abilities into the weapon you're currently using. In time that weapon, showing the strength of your heart can/will eventually become a keyblade. For the heart is the true key, and the keyblade merely the tool to express the heart's essence.
How abilities work is they are mainly physical enhancements to wielders. Usually with some abilities are used in conjunction with magic. Our abilities explain how we can do all these pretty unusual techniques and recoveries. But we can't go above and beyond because we're ultimately just regular human beings.
Magic is ultimately spread into so many fields, used in aggressive formats and passive protection. Most commonly seen in elemental spells, summons, defense spells, physical affliction spells, curative spells, light spells and dark spells. Keyblades act as a conduit to channel magic and produce it. Magic's recoil is that it can't be used in excess, meaning a spell that takes a massive amount of magic, like curative spells, basically means you can't use magic within a 2-4 minute period. Realistically so much can happen in the time your vulnerable to physical attacks and magic attacks.
Keychains are a physical extension of one's heart, and serve as a modifier of the keyblade held and ultimately changes the appearance and comes with a single ability attached. You're ultimately holding two, the original appearance of your keyblade and its single modifier. Us at the beginning are unable to physicall remove the keychain and see what our primary keyblade looks like, so they ultimately only appear in two standard forms.
Combat System
This will clear out any type of bugs in actual fight post in the RP. From beating someone into submission with a keyblade or other substitute weapon. To the idea that they've been locked by spells, or to the extent their magic spells can effectively damage someone. So theres no, "Oh well he got completely and utterly destroyed! OH MY GOD!" Because, being realistic, we won't be able to rival the power of the chosen 3 until LATER on in the RP. Then maybe you can say OH MY GOD like five times.
Melee is in the sense, where there will be mild powerplay. You won't always be able to block or dodge EVERY SINGLE ATTACK. Be mindful that if your keyblades make impact, even slightly there still is a pushing force from the other's physical strength onto the other. Plus if your clever you can use a stalemate of two keys to your advantage. The closer you are to your opponent, the harder it is to dodge and/or block. So if your doing melee, be prepared to take a beating, if you win or loose, you will both at some point have gotten hit physically.
Lastly magic. Here is ultimately were we get creative and cast a string of spells. Remember. Magic has a limit where we can't use it, so if your going to use a curative spell, be smart and have items. For magic, depending on the kind of attack, you really can't avoid it. Damage taken in best respects to the extent of the attack. There will be no immediate spell after two consecutive ones.
Banned spells: Ultima Flare, Reflega, Stop.
This is the attack involving the heart's core. A kid must go through this attack, unleashing forces that thus outclass skills by far. It always involves the keyblade in some aspects. Other than that just know that the attack is dangerous. It goes on to say the attack targets the opponent's hearts, thus this attack is unavoidable. Trying a combo against a heart ignition attack is pretty much going to fail, the heart ignition isn't going to miss...
Heart ignition clash, the phenomenon that happens when two heart ignitions occur simultaneously. It is left to the two RP'ers to decide (via the OOC or PMs) who will prevail or would it just be a stalemate and the two clashes negate each other.
Factions
Those in the Cul-de-sac could more delicately be called a bunch of brats running around wielding weapons of semi-destruction, but either way this doesn't go to say that they aren't at all organized nor that they for the most part DO NOT work in teams. Of course they do, and herein lies the notion of the Cul-de-sac factions. There are three of them, and each of them is based off different rules or ideals, and all three have a separate leader. Furthermore each faction has a separate color housing its beliefs that which be
Zeal's Call- These are the brattiest of all per say, the faction of keybladers that are all rich. They can come off as flamboyant and disrespectful, and their leader Reforge harbors his youth over the rest of them, he being only age 12 and a genius of brilliance. This faction has its base HQ in the south of the Cul-de-sac, and at times seems that this factions main focus isn't being the best or even climbing to the top. The notion that fuels the Vagrant Zeal is embarrassment. People want to assume that just because somebody is stuck up or has money that they can't be strong. That isn't true in this case. This kids in this faction will beat the hell out of you and ask questions later after you lose to them. They all have nice skills and over all power at the present. Vagrant Zeal specializes in intense battle and some seemingly covert operations….their color is that of pink
Vagrant Oricalcos- The faction that at times seems to have the most follows, the basic of the Vestry being the ideal of the helix spiral; or the climb to the top. They hang around in the northern part of the Cul-de-sac's limits where their HQ is located. It accepts everyone and hates on nobody who wants to join. The kids in this faction are all great tacticians per say and excel at ambushing. There is the notion present of never giving up and knowing that with a loss, comes the chance to grow stronger and try again, more than likely whooping some ass in the next round. It's said that these kiddies are pretty fast and move with grace in tow. Lead by Coralye, their color is a lime green.
Cult of Creative Kids (Them/US!!!)- This is the faction that has fair skill in almost everything and have the perfect location, right in the center of Cul-de-sac. Their followers lead by Garforge are the marvel of beauty, defense, power and awe. Them has a decent number of followers, but could care less how many people they have on their side. With the skills they possess to handle practically any situation and their development of "magi-skills" they are perfect for an indecisive kid.. with Garforge's intense direction and desire to surpass the limit of what is given, why bother worrying about anything at all?? These guys adorn a catchy orange color. Garforge would later call this group the Cult of Creative Kids.
​
Name: (Apparently this is the name that your parents gave to you at birth. Make it something creative and not blatantly stupid please. Also as this IS a Kingdom hearts kind of rp, a last name with certainly NOT be needed.)
Nickname: (If you don't know what this is
, but yeh, your nickname. What others might call you due to some trait you may have. Take note that you just might like being you and thus have no nickname at all.)
Age: (This is really friggin simple if you ask me . How old are you?? Seriously we are all kids so none of that I'm 9999999 years old shyt. Your age can range from about 13-17 if you wish.)
Gender: (Uh durr, do you have guy parts, or girl parts?? Though I'm not a hater this isn't an rp where little kids have gotten sex changes. Please pick female or male.)
Appearance: (You gotta look like something right?? Anyway, you may use a picture, but either way, you must also have at least a decent paragraph description to go with it. Also if you Do use a picture, post it in a spoiler, or a link. We don't wanna see huge pics across the page.)
Personality: (Meh this can be meaningless to come as we act how we act, but even so, post yours here. A paragraph or two will suffice.)
Abilities: (Here we go!!! Yes you can all have powers, though keep in mind that this is far beyond the years of the original KH games and nobody is seriously uber powerful. And no you can't teleport every three seconds, and NO you can't use some type of energy that can blow a hole through the building over there. As stated before these are mainly physical enhancements, Don't put too many or you will be asked to edit some of them out.)
Magic: (Yes you can have spells, even if they are really powerful, though Ultima and Flare are completely out, along with stop, and Reflega. Magic ends up hampering you, so if you use it be realistic. If you have Thundaga in this spot it is gonna take like a minute of you standing looking dumb to cast…..you mave have four spells.)
Heart Ignition: (Your finishing move, you only get one, for once you really won't be yelled at for making something over the top. Take advantage.)
Keyblades and chains: (You start with a single keyblade that in reality you have no idea what it looks like or its true powers. With this said, the keychains come into play. You have a keychain automatically attached to your keyblade thus changing it from its true form and giving it the look it has. On the same note you have another keychain.
KeybladeForm Appearance A: (Post a pic, or don't. As before if you do, put it in a link or something…)
Ability-
Keyblade Form Appearance B: (Post a pic, or don't. As before if you do, put it in a link or something…)
Ability-
Faction: (Obviously this is the faction that your character has chosen to join, and NO you can't be neutral. If you were, anybody in any one of the factions would beat the shit out of you any time you tried to do ANYTHING.)
Recent History: (It doesn't really matter all too much where you came from and why, just that now you are a kid in the Cul-de-sac and you are part of a faction battling it out for some type of supremacy in the streets. Here is where you talk about your recent activities in the Cul-de-sac. At least two paragraphs please.)
<div align="center"> RP Roster
Cul-De-Sac - Combined Faction.
Last edited: