Joined

May 14, 2017
Messages

1,317
Reaction score

364
Points

83
Awards

9
Location
Hello,
You know, I'm in a real foul mood today after failing a chemistry exam. For those of you out there who think chemistry is easy, please don't tell me that to my face. If you enjoy it, great just leave me out of it.
And I apologize for that little mini rant, though I promise you it connects to this thread. One of the most exciting things about a new KH game is the new worlds we might be able to see. Most of which are primarily movies that have yet to be represented in the series up to this point. But then when you look at Disney's library (and I mean REALLY look, at some of the forgotten movies, can of worms anyone?) they've got quite a few oddballs and stinkers in the bunch. So our little exercise today is this: Make a world out of any terrible Disney movie, any one that you could feasibly think of. Come up with a name, bosses, party members, etc. to flesh it out. Of course, this will be a controversial thread, as some of you will have a bias towards one movie that another won't have. So I advise you to be civil, this is just a thought exercise that is very opinion-reliant. So here's an example.
I suppose a few rules are in order, the movie must be made by Disney and display it on the cover. It can be a theatrical release, direct to DVD but it can't be any of the DCOM's, because that's another can of worms for another day. So no Halloween Town worlds yet okay? (and I'm NOT talking about the nightmare before christmas).
Here's an example;
Winter Suburbs (based on Mickey's Twice upon a Christmas)
Oh yeah, we're going there, anyone else grow up with this fever dream of a movie? I did!
"party members": Donald and goofy
Now how to write a plot for a movie with 5 of them in it? Simple, make it like Symphony of Sorcery and have it all be a dream (of sorts).
Mickey, Donald and Goofy's memories are stolen by someone and Sora (or whoever, I don't know) is tasked by entering their dreams to figure out whodunit. However, instead of landing in Timeless River or any other classic Disney film, they land in this one of all possible movies. (go figure).
Now of course because this is kingdom hearts, the heartless are here to ruin it (or dream eaters, I guess). As such you'll be facing such terrifying foes as the Santa's workshop display!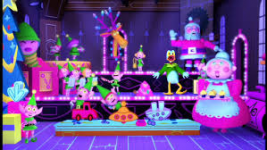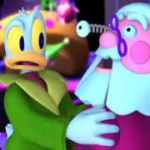 It can be terrifying if everything was controlled by a dream eater or something, I think?
And an evil popcorn machine for goofy's segment.
Anyways, Donald and Goofy will assist you in their respective fights, though notably with less input due to them being in their civilian mode. Certain reaction commands can be triggered to give you an edge in the fight, though this won't be Sephiroth levels of difficulty.
All of this cumulates in a climactic battle in Santa's workshop, where Maleficent finally achieved her goal of turning Santa Claus into Santa Heartless,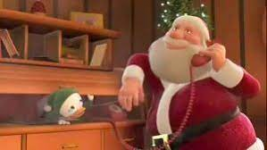 Here's an image before the battle, Maleficent's on the other end of the phone, and corrupts him long distance, either that or he's ordering a pizza.
The battle involves a lot of running around the destroyed toy factory with Huey Dewey and Louie supplying you with gifts to knock back at the cantankerous Kringle ala Oogie boogie style until he's rendered unconscious, then beat his belly until it's jelly and you win!
THAT is the kind of world I'm looking for folks, something hokey that has no chance in hell of ever being made, unless Nomura experiments with something he shouldn't.