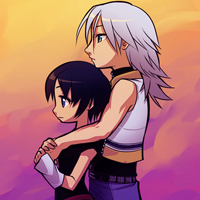 Joined

Jan 31, 2008
Messages

16,306
Awards

5
Age

36
Location
Website
Yes it did. Because Namine was Kairi's Nobody produced when her heart was released from Sora's body, Namine had power over Sora's memories. If she didn't have that power, the story of Chain of Memories could never have happened.
Considering Namine as a concept was born long before her being Kairi's Nobody was, I can safely assume Nomura could've found some other work-around for it. Say, she could only affect the Memories of people with Hearts so that's why she couldn't affect the Organization save Roxas whom was affected directly by Sora;
Say she's another entity of Light with relations to the Keyblade Master; etc.
Namine had her own plot already built out in CoM; her being the Nobody came much, much afterwards.
They could've done without her being the Nobody.
Kairi having a different name would do absolutely nothing to further the plot, unless she turned out to be some imposter all along. I doubt that very much, or her pure heart wouldn't have been able to open the door in Hollow Bastion, along with the other princesses'.
I actually thought about that issue for a long time. The point is, there were too many things going on there that could've affected it; amongst other things - Sora's own Heart completing the Keyhole, or something.
Although yes, seeing how the events that concern Kairi were all in KH1 (and already concerned her directly on such a small manner) there really isn't enough point in dwelling in her.
Which is very, very sad.
Yeah, I'd like to see Tifa and Aerith assisting Kairi, though it'd be more likely if Aerith and Yuffie did that, since Tifa's only purpose in the games was to find Cloud. She wasn't really involved in the main storyline that much.
Well, what happened with Cloud and Sephiroth in KH2 just might give an opening to something grander.
Also, in a way, Tiffa's effectively doing what Kairi claimed to have done by getting kidnapped, and going after the people she cares for. That makes Tiffa ideal to be Kairi's 'guide