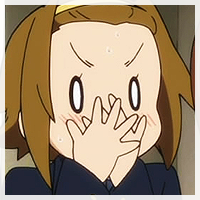 Joined

Jun 18, 2005
Messages

1,927
Awards

2
Age

34
Location
hey guys i know this is pretty obvious but it looks like we wont be having that many new pics or vids of new KH2 stuff from what my translation of the Square Party home page says. here it is. remember it is a translation.
Concerning the photographing * sound recording inside the place

* Inside the place, photographing, and the sound recording with animated picture prohibit extensively.
* If only photographing with the still picture, can protect the rule below, it is possible.
* As for the picture which was photographed inside the place please handle as a pleasure of the customer individual. The picture which was photographed inside the place () second use such as the game picture and promotion image (release and sale et cetera in the home page of the individual) it is prohibitted by law.
* The theater area and the place where the photographing prohibition panel and the like is installed become all photographing prohibitions.
* When photographing with animated picture and photographing by the still picture at the place of sound recording and photographing prohibition are discovered, there are times when you take measure such as discontinuance of forfeiture of the film, elimination and the performing eye et cetera of the data.
so we may have trouble geeting some new videos and pics but i know we will hear abot it. lol thats what counts. i hope security isnt that tight at the Party cause i was loking forward to some new pics or vids. also i know this is pretty much well known so please bear with me.. i am trying to let all the n00bs out there know. thanx