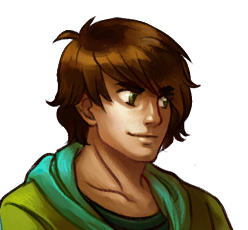 Joined

Feb 23, 2009
Messages

2,694
Age

27
Location
Website
I remember very distinctly one summer when I was a kid. It started out just like any other summer for me, and I spent a lot of my time by a nearby river fishing. I was told from an early age that I'd have to follow my dad's footsteps and become a fisherman, as lame as that sounded. I wanted to refuse, but I didn't really have a choice. This village was so small that we all had our defined roles to fill. Apprentices and masters and all that, but with harsh limitations set in by our families' jobs. I just happened to have been born in the most boring position: fisherman. At least farmers got buff and teachers were way smarter than the rest of us. I was destined to be some lanky old fool who would serve up the catch of the day. These ideas weighed me down a bit during that summer as I made my way to the same river I've always visited my whole life with my pole in hand. It didn't take long for me to reach the stream and I sat atop of a large smooth boulder under a large looming tree. Dad said it was called a weeping willow because of how the leaves drooped down depressingly and at the time I thought he was just having fun with me. I sighed to myself as I cast my pole but was surprised when the sound of my lure hitting the water failed to reach me. Confused, I began reeling it back but it wouldn't budge. I looked down from my perch and froze. In the exact spot my lure had landed, floated a young girl. She was face up and her hair was an almost fiery red. Panic spread through my body as I watched her slowly float down the river, eyes closed. A few seconds of horror overflowed my mind and I did nothing but watch her until I finally pulled myself back together and jumped down into the water.
After pulling the girl out, I was relieved to find her slowly regaining consciousness. Her eyes suddenly flung open, full of confusion. Unlike her vivid hair, her dull pupils were very dark and made me slightly uneasy.
"What happened?" She asked me. I told her about how I had found her floating in the river. "I don't do well with water," she explained after thanking me. We talked for a while, though she wouldn't really tell me anything about herself and was more interested in me. One question in particular stood out: "What do you want to be when you get older?" I told her how I was locked into my position of fisherman and longed to see the world. How I wondered about soldiers and kings, what it must be like to be a hero. She just smiled at me in response. After a few hours of conversing, the girl excused herself, and I wouldn't see her again for another few years.
I had awoken to the smell of ash. The world around me was burning, though no noise reached my ears. I slowly turned around to find a girl with fiery red hair facing away from me, her hands outstretched against the flames. "I'm sorry," she said, "I couldn't save anyone else, and I couldn't catch the person who did this. It was all I could do to save you." I could see her strain herself as she held the flames back with unseen forces I had only heard of.
"Magic..." I whispered as I suddenly realized my entire world had burned away. Tears filled my eyes at the thought of never again seeing my family and only one thing echoed through my mind. I had to find the person who did this. I needed to make this world a better place.
Once the flames died down, the girl led me somewhere safe, and we finally introduced ourselves.
"My name is Sally Macy Anderson. What do they call you?" I told her I lacked a surname, but I went by Will. "No last name? We can't have that anymore...How about Wilton? Will Wilton. Has a nice ring to it, doesn't it?" I tried my best to put on a brave face, but the idea that everything and everyone I had known had burned away was too much for me. "I'm going to help you," she told me, "I'll help you get stronger. I'm...I'm going to make you a hero."
---
​
Morning bells rang through the town of Azure as a cheerful atmosphere quickly took over the plaza. The early morning fog had already lifted, and in its place the sun began to shine eagerly over the town, basking it in a bright light.
"Will, it's time to get up." A young woman's voice said.
"Mmmmuhhh nah," came the muffled response.
"Today's the day they're going to show off that artifact thing, Will! Not to mention the festival planned beforehand." Instead of a genuine response, the boy rolled on his side, thankful for the hotel's comfortable bed. "Some hero," the girl scoffed.
"Today's the one day you're giving me off from all this training stuff. Can't a guy sleep in for a change?" Will answered back.
After quite a bit of coaxing, Sally finally managed to get the trainee out of the hotel and onto the bustling streets.
"There's a ton for us to do today, so make sure to plan everything you want to do first, alright?"
"You're making this sound like work," Will told her as they approached a vendor near the edge of town. Sally suddenly stood at attention, looking towards a nearby forest. "...Are you alright?"
"Something's happening."
"Well, yeah. It's a festival. It'd be weird if nothing was happening." Instead of giving him an answer, the girl grabbed his arm and ran into the woods. After a bit of running, she stopped suddenly, gesturing him to stay quiet. The pair peered from behind some bushes and saw a caravan surrounded by men wielding swords and axes. "What the hell?!" Will whispered, "are they seriously robbing that thing so close to town?"
"Yep."
"What...what do we do?!"
"Your call, Mr. hero."
---
​
Mary sighed deeply as the town of Azure came into view. She wasn't looking forward to being in Blueshire, especially not this close to the Sword Guild. A sudden gust of wind caught her off guard and her pegasus, Junie, had to readjust herself to avoid the abrupt turbulence. It reminded the Lancer of her associate who was deceptively good with wind magic, though Mary knew she was no where around. They were one of the few Flying Lancers formally invited to this event, but Mary had convinced everyone to allow her to travel alone. She preferred it this way, though she still would rather turn right around and head back to Fayfield. As she got closer, she saw from above as a redheaded girl dragged a man into a forest.
"Probably just looking for some privacy or something." She told herself with a frown. How vulgar, what if some kids saw them? They could at least have the decency to get a hotel room or something. With a small amount of commotion, the girl touched down to earth near the center of town, right by the building housing the Sword Guild. "Man, I really don't want to do this, Junie." As if to respond, the pegasus shook her head while bellowing quietly while they ignored the stares of onlookers.