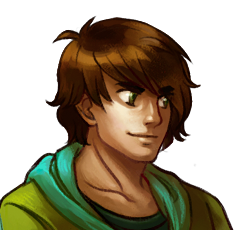 Joined

Feb 23, 2009
Messages

2,773
Awards

16
Age

30
Website
CLASSIC
​
The sounds of the bustling town surround you as you try your best to slide past the river of people. Off in the distance you can hear a hammer striking an anvil, as well as the accompanying grunts the apprentice makes as he swings the tool down, eager to finish his last job. There's a man dressed in a white apron that's been slightly spattered with blood standing behind the counter of a fish stall. You watch him for a second as he attempts to persuade a woman about the freshness of his fish while the neighboring meat seller does the same from his end, but you dismiss them both as you hurry on your way.
As you round your way to the center of town you notice a man wearing a beaked carnival mask standing atop crate. He's clutching various cards and is yelling happily at the crowd below. Though you attempt to avoid eye contact, something about this man draws your attention and for a brief moment, your eyes connect.
"You there!" He cries before hopping down his box, "You seem like a fine upstanding fellow who would appreciate this!" The masked man pushes a card onto you despite your protests of being in a hurry. The card reads of an artifact to be unveiled by the king and queen of Blueshire and it promises to be a discovery that could change the way everyone sees ancient civilization. "It's to be a glorious day indeed!" The masked man goes on, wrapping an arm around your shoulder. "They've just discovered something so amazing, they intend to show it to the whole world! Everyone from everywhere is invited, including the country of Fayfield, the elves of Tetus, even the dwarves are expected to appear! The best part is, Blueshire is holding a festival just before the unveiling! I just know you'll be there, right?" The man removes his arm and nudges you lightly instead. "You might just find that special someone, hmmm? Or maybe you're more of the rugged type who only wants to go to participate in the fighting tournament to be held? Whatever your reason, I guarantee you'll enjoy yourself, and..." the man leans closer towards you as he lowers his voice, "I have a feeling something exciting might just happen after the artifact is shown. But keep that under your hat, would you?" With a quick pat on the back, the man jumps back on his box and resumes shouting into the crowd while passing along his cards to whoever would accept them.
---
​
This land is very different than the one you're used to. There are three main continents and each one has its own military. Blueshire and Fayfield are connected by a large forest, with Fayfield to the north and Blueshire to the south. The two nations have lived relatively peacefully, with only a few skirmishes here and there. Aside from the military, they both have separate organizations that help keep the peace which include Blueshire's Sword Guild and Fayfield's Flying Lancers. There is also The Axe Brigade, which dots both nations, and the Magical Libraries, of which there is only one in each. The other nation is an ocean away and is generally closed off to outsiders. Tetus is the name of this land, and it is inhabited by the elves. The people of Blueshire and Fayfield do not know much about Tetus, but there are attempts at making peace between the races. Despite the lingering peace that has been enjoyed by many, a shadow has begun to loom over the world. When the shadow's true nature is revealed, you will have to choose a side that will determine your true allegiance.
This is a land of magic, though technology is also starting to evolve. Steam engines help the lives of those without access to magic, though the most you'll ever see of technology is the cogs of a wooden gate as it lowers the drawbridge to a castle. As mentioned before, there are a few organizations that specialize in different forms of combat. The Sword Guild and the Axe Brigade obviously focus on swords and axes respectively, but this doesn't mean every member of The Sword Guild fights with a sword. You can, for instance, have a bow user or mage in either one of them, but the organization is well known for having their members use that kind of weapon. The only exception to this is the Magical Library: their members are all exclusively wielders of magic. There is also The Band of Thieves and The Assassin Clan, which will be explained later in the post.
You can choose any of these to join should you so choose, or you can go solo and answer to no one. You can pick which nation you call home, your race, etc. You're your own boss with your own story to tell, so make it a classic one.
As the RP begins, the majority of the cast will be in Blueshire to view the unveiling of the discovered artifact. After that starting point, everyone is free to do what they want. In order to ensure everyone has a pleasant time, a festival will be held before the unveiling and will have a little bit of everything. As the story goes on, there will be important choices to be made. These choices will leave lasting impressions of your character, as well as their stance with the nations. But hey, don't worry about that. We've got a festival to hit!
---

​
Here is a small list of things you might just encounter on your travels. Keep in mind that I'm giving you creative freedom, so feel free to create anything you need for your story.
Rules
​
Don't be a dweeb
General rules apply (no powerplaying, PG13, etc.)
In order to prove you've read everything carefully do not place the phrase "I've read the rules and I'm a dweeb" at the top of your temp
I'm giving you creative freedom, but I expect you to take this responsibly. I don't want to see special unstoppable snowflake characters running around.
If you have any questions comments or concerns, feel free to throw them at me. Otherwise, it's time to roll your character.
Name
: (First and last)
Age
: (At least a late teenager)
Gender
: (Male or female)
Appearance
: (No pictures, at least a paragraph)
STORY
: (A small backstory of who you are and how you got to where you are.)
Personality
: (Tell us about yourself. The more details, the better.)
Race
: (Human, elf, dwarf, halflings, etc)
FIGHT
: (How do you fight? What are your weapons? What's your style? Please note that you can use "special abilities" /"skills" to aid you in combat, just don't make them too intense. This is a must for mages, though.)
Skills
: (If applicable. Don't go too crazy.)
Kingdom
: (Blueshire, Fayfield, Tetus/Eveholm, or Dwarf. Note that this doesn't immediately decide your allegiance)
COMMAND
: (Who do you work for, if applicable? Note that this does not immediately decide your choice of weapons.)
Other
: (Anything else you want to add can go here.)
Here is a̶n̶ ̶e̶x̶a̶m̶p̶l̶e̶
two
examples of a character in case you need a little push. Keep in mind this character will
not
appear in this RP.
...but this one will.
Characters
​
Last edited: