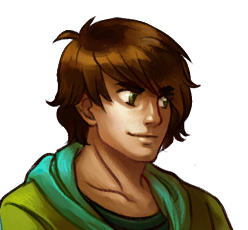 Joined

Feb 23, 2009
Messages

2,694
Age

27
Location
Website
I'm bad at starting stories. I'm even worse at following through with them. Thankfully I already have half of the next part written out, and by posting the first half, I'm forcing myself to write no matter what. Furthermore, this will be more episodic than other things I've written before, so if one thing gets too stale I can just move on with something else. With all these safety nets, what can possibly go wrong? (note: don't ever say that sentence in real life, especially in a literal setting.)
---
Starter Pack
​
A large wooden gate stood in front of me, guarded by two knights. Both of them wore shining armor along with wielding a spear and shield. They were both standing in attention and completely unmoving. I fought the urge to tip one over as I walked toward them. Before I got the chance, the pair crossed their weapons together, blocking the entrance. They had undoubtedly practiced that move before.
"Business?" One asked.
"My name is Bryer Alma." I said, taking the time to give a quick bow. "The lord of this castle sent for an ambassador from Blueshire. That would be me."
"You do not appear to be professional enough to be an ambassador." The other said. I looked at a random window on the brown stone wall just in time to see a quick blur rush into it. Perfect.
"Dude, I'm totally professional." I said as I reached into my pocket and pulled out a crumbled piece of parchment. I undid the various folds and handed the paper to the guard on the right. He took a look at it before handing it back to me.
"The Blueshire King's very own seal, huh?" He said gruffly. "Alright, I guess you check out." In another swift movement, the two guards returned to attention and took two very large steps to the outer sides of the gate. The right hand gatekeeper pushed his hand against a tile on the wall, and the gate began to open itself up to me. I hoped that was due to mechanical engineering and not magic. If it was the latter, we were screwed.
As I walked under the large gate that towered over me, I made out the telltale sounds of gears and other assorted mechanical gizmos whirling around inside the castle walls. That was good; we were safe for just a bit longer. I wasn't sure how long it would take Chive to find what he was looking for, but there were only two ways we were getting out of here alive. Either he finds the documents while I distracted the lord and he easily escapes without anyone even realizing they were robbed, or he gets caught and we fight our way out. Of course there was always the chance he might not find the documents, hell there might not even be any documents at all. If that was the case we might be in the middle of accidentally starting a nation-wide war. Suddenly this seemed like a bad plan, but it was too late to turn back. Besides, we had gotten the green light from the higher ups of Blueshire, and we also had various people from Chive's band of thieves scope the castle out and draw diagrams and blueprints of the place in order to get the best route of escape in case things got hairy, so it wasn't like we were flying blind. The majority of the castle was indoors from what we learned. There was some kind of outdoor arena near the center that was exposed to the elements, but if things went well I shouldn't even need to visit it.
How was I supposed to find the lord's quarters? Obviously, I knew where they where thanks to the scouting we had done, but I wasn't supposed to know its location. Surely one of the two soldiers outside would follow me? I turned around to ask, but the gate had already began to close. I sighed in defeat, unsure of what to do. The best thing to do would be to wander around until I find someone to help me out or I "accidentally" find his resting place.
"Need some help, Bryer?" I heard a female voice say. I turned away from the door to find a woman around my age garbed in a black hooded robe. Her long black hair gave her an air of mystery that made me uneasy, and her staff gave me the impression of magic which—given the current situation–was not something I wanted to deal with. Magic had a way of finding thieves easily, and my stomach began to sink at the thought of failure before the mission even began.
"Hi. Yeah, I'm just--"
"Just trying to buy time for your friend to grab the documents revealing Fayfield's plans of attack on the neighboring country of Blueshire by gaining an audience with this castle's lord? A castle built more like a fortress on the outermost region of Fayfield, almost as if it was strategically placed there for an incoming assault?" Well, crap.
"I have no idea what you're talking about." I said cheerfully. She puffed air at me.
"I hope Chive is a better liar than you. It was a good idea of him to go in through one of the bedrooms. It's afternoon so they're all empty." Like I said, magic has a bad habit of revealing the truth, and the truth was rarely Chive's friend. "Well come on then." The girl said as she began to walk away. "Lord Timberpatch is waiting." I stared at her.
"What?" I said in what I assumed was a stupid manner.
"What?" She repeated back to me in a stupid manner. "I said he's over here. He'll get suspicious if we take too long, come on."
"Is this a trap?" I asked, catching up to her.
"If it was I would tell you it wasn't. But no, it's not a trap."
"Alright, now you're screwing with me." I almost caught a smile on her face before her stoic expression took over again.
"You think I like this?" She whispered angrily. "If you're right this means war between the nations. War brings destruction, and destruction brings ruin. As a scholar I would be a little more than upset with myself if I didn't stop the needless destruction of libraries, books, and magical artifacts before it even started."
"What about the people?"
"What about them?" I gave her a strained look. "Does it matter what my motives are? I'm on your side, that's all that matters. Also, tell your friend to screen his merry little band when he gets the chance. One of the guys who infiltrated our troop offered to sell me your plan of attack. It was pretty stupid since we would have just killed him after."
"So what did you do?"
"We killed him before he had the chance. I had to convince everyone he was lying and trying to desert us, and I assume those who pushed my idea were the more loyal men of his band."
We spent the rest of the short walk in silence. I didn't pay attention to the exact route we took, but I knew the fastest way out in case this did turn out to be a trap. And why wouldn't it be one? This girl dissected our plan probably at the same time we created it. She didn't care about the humanity of what was happening and it was very easy for me to see her create a deal with her Lord to spare whatever she wanted in exchange for a couple of Blueshire prisoners that were caught in the middle of espionage. Things looked grim, but there was nothing to do but keep going.
"Here." The girl said to me as we reached a door on the second floor. She reached into her pocket and retrieved a blue crystal shard before handing it to me. "Use this when the time is right." I took the crystal from her and outstretched my arm high above me, hoping for an explosion or something so I can make my escape, but nothing happened. "Not now, you dolt." She hissed as she reached for the door. I quickly pocketed the shard and followed her inside.
Last edited: