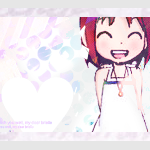 Proud Demyx/Kairi Shipper
Joined

Oct 12, 2007
Messages

4,281
Awards

1
Location
Disclaimer: I don't own Kingdom Hearts.
Setting:
Between CoM and KH2, some time after
"The Paopu Festival"
and
"Washing Away the Memories."
Again, you don't HAVE to read these two fics to understand what's going on, but you can if you want to.
Pairings:
Kaimyx. That's right, I wrote another one!
Summary:
It's September 9th (aka Demyx Day), and the Melodious Nocturne decides to tell Kairi about this momentous occasion. But she accidentally gives him a panic attack when she casually mentions that her birthday was exactly two months ago, and he realizes that he never got her a present! The fact that Kairi doesn't really care is beside the point...
A/N: Technically, this should have been done yesterday, if I hadn't come up with the idea yesterday! So happy belated 09/09/09?
"Celebrating the 9th"​
Kairi was starting to feel less and less surprised at the sight of Demyx on the dock, strumming his sitar with a happy grin on his face. He liked how she actually gave him feedback on his private performances, and now came to her every time he had a new song that he wanted to show off. But today he looked even more pleased with himself than usual. "You look excited," she commented as she sat down next to him and swung her legs over the dock's edge, right above the water. Demyx smiled in a way that suggested he was hiding a great secret, one that he had him debating over whether or not he could trust her to keep it too.
Tidus is right,
thought Kairi,
I need to stop reading those romantic mystery novels!
"Well," said Demyx finally, "It's not very important. It's actually pretty stupid. Do you want to hear my new song?"
"Not yet," replied Kairi, "Tell me why you're smiling! I won't laugh!"
"I'm telling you, it's really stupid. No one else cared when I told them!"
Kairi frowned. Sometimes Demyx would mention his friends, but she didn't always like what she heard about them. It sounded like they teased him a lot, and not in the joking way that she and her own friends would often do. The fact that he came from out of town, just so he could see someone who wanted to hear his beautiful music, also disturbed her a little bit. Didn't anyone appreciate him, back where he lived? And now he was happy about something, and no one he knew cared enough to hear what it was! "Demyx, you can tell me! I'll listen, I swear!"
"Weeeeeelllllllll…all right…do you know what day it is?"
"Nope!" said Kairi, "What's so special for you about today?"
"No, I mean, did you look at a calendar this morning? Do you know what today is?"
Kairi bit her lip and tried to remember. "I think it's…September 9th?"
"That's right!" he said cheerfully, "The ninth day of the ninth month!"
"What's special about that? Is nine your lucky number?"
"Not quite," said Demyx, "Actually, I'm the ninth member of my Organization, so I like to think of it as my own special day. Like a birthday!"
Kairi was struggling not to giggle, since she'd promised she wouldn't laugh, but it was hard- he was just too silly sometimes! But then she felt a sharp pain in her heart that killed her inner laughter. Sora had always been coming up with goofy ideas like this too. She and Riku would often go along with whatever new scheme he had cooked up just to humor him, even back when they were little. The memories made her miss them more than ever before.
"Uh, Kairi? Are you okay? Hey! You promised you would listen to me!"
"Oh!" cried Kairi, jerking out of her thoughts and feeling a bit guilty. "I was!"
"Oh yeah? What did I just say?"
"That today's like your birthday because it's September 9th, and you're the ninth member of your Organization?"
"You
were
listening!" said Demyx, now looking delighted, "I guess you thought it was pretty silly, huh?"
Kairi giggled. "Demyx, you're
always
silly! But that's okay, I like you that way!"
"You do?" asked Demyx in surprise. He looked touched by her compliment.
"Of course! Wait, so if today's like your birthday, that means it's two months after mine!"
"Two months after yours? You mean you already had your birthday?!"
"Yep! July 9th! I'm finally fifteen!"
"You had your birthday and you didn't even tell me?!" cried Demyx in horror. Though some of his memories of being human had faded, he still remembered that girls were fussy about special events and hated when you forgot stuff like birthdays or anniversaries, and he really didn't want to lose his new friend!
"No, I didn't. Every time I tell people it's my birthday, they go out and buy me presents, and I didn't want you to feel obligated…"
"Don't worry, I'm going to buy you a present!" he announced.
"No, you goof! What did I just say? Demyx!" Her friend had jumped up and started to run towards town, but Kairi grabbed his black hood and yanked him backwards. Unfortunately, he was so startled by the gesture that he lost his balance and fell backwards into the water below! "Oh no!" cried Kairi, "Demyx, are you okay?"
Demyx's head broke through the surface of the water, but as soon as he saw Kairi staring anxiously down at him from the safety of the dock, an evil grin spread across his face. "Demyx, what's wrong?" asked Kairi, "Demyx…HEY! DON'T YOU DARE!" She let out a shriek as he suddenly grabbed her and pulled her down into the ocean with him! "You're dead, do you hear me?! I'm gonna kill you!" she yelled as she started laughing. He responded by dunking her head underwater, and it wasn't long before they were having a water fight: laughing, splashing and kicking each other until they were exhausted and climbed back up on the dock. The two friends lay flat on their backs to let the sun dry them out and lazily watched the clouds go by.
"I still need to get you a birthday present," said Demyx finally.
"No way! It's way too late now, and I don't want you to have that kind of burden to worry about!"
"But it was your birthday, and I missed it!"
"If I had wanted you to get me a present, I would've told you when it was my birthday," she replied.
He couldn't argue with
that
. "You're impossible, Kairi," he said finally, with a sigh.
Kairi bit her lip again, trying to come up with something that would make him feel better. She wanted him to know that she liked being friends with him for
him
, with no strings attached. But if his so-called friends back home were any indication, he wasn't used to that kind of love. Then it hit her. "Actually Demyx," she said slowly, "There is
something
that I'd like, and I think you're the only person who could give it to me."
"Really? What's that?" he asked eagerly.
"Do you think there's any way that you could record some of your songs for me? You know, the ones you always play on your sitar?"
"You want me…to record them? But why?"
"I was thinking about how great it would be if you made me a CD, and that way, when you're not around, I can still listen to your music whenever I want!" Her words were followed by an uncomfortably long silence, at least for Kairi. Finally she sat up and looked over at him to see if something was wrong. Had she upset him somehow? Was it too much to ask Demyx to record his music for her? But when Kairi looked at him, he had a shocked, dazed smile on his face. "Demyx?" she called out.
"You…you really like my music that much? You want to listen to it even when I'm not around?" he asked, sounding as though he was trying not to get his hopes up.
"
Especially
when you're not around!" said Kairi fervently. Then her voice dropped. "Maybe…maybe then I wouldn't miss you as much whenever you left."
Demyx sat up slowly and looked her in the eyes; he seemed ready to burst with excitement. "You really like my music that much?" he asked her again, "You really like having me around? I don't annoy you?"
"How could you ever annoy me, Demyx?!"
As soon as Kairi finished speaking, Demyx threw his arms around her and kissed her straight on the lips! She blushed so deeply that the color of her face was beginning to match her hair, but she didn't back away for some reason. Instead, she hugged him back and let him express his joy, though she hadn't expected a reaction like
this
. It wouldn't have mattered if she'd asked anyway; he didn't understand it himself. He merely backed away and said, "Thank you so much!" as he did so. When all was said and done, they stared at each other awkwardly for a moment. Kairi was still blushing, and Demyx was just starting to realize what he had done.
"Soooo…um…I think I'll go home and start working on that CD for you…yeah…that's what I'm going to do! Uh, see ya!" he said quickly, and this time he succeeded in jumping up and running away from the dock.
Kairi felt a weird, uncomfortable sensation in her stomach as she watched him leave and tried to hide her sudden pleasure. "Come back soon," she told him softly, even though Demyx was too far away to hear.
- The End -​
A/N: So after many attempts at writing romance one-shots that looked more like friendships, I finally got in a kiss scene! Sweet! Anyway, reviews and constructive criticism is much appreciated. But no flames, please.