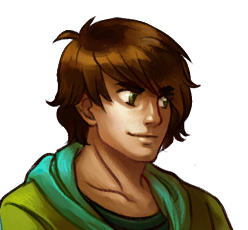 Joined

Feb 23, 2009
Messages

2,704
Awards

12
Age

27
Location
Website
Yo, what's up. I've decided to save some space and make a single thread for any and all new content I create from now on, not including stories that already have their own threads. I have a bunch of ideas I want to put out, but I'd hate to get started on them and never finish them (see: Simple Stuff) so what I plan to do is use this thread to post any new stories I have. Like I mentioned, this won't include stories that already have their own thread, so Appreciate, CLASSIC, and Simple Stuff will be posted in their respective threads while any new things will be posted here. I'll also go ahead and post the links to those threads too because why not. Whoo.
Animal Crossing Deluxe
(Finished) : The only fanfic I've really written (I don't really like fanfics) but peeps seemed to have enjoyed it. Dude moves into a town full of animals and lives his life. There are some coming of age bits in there as well.
Simple Stuff
(hiatus) : Should be named "Stupid Stuff". I try to walk a thin line between quirky humor and lolsorandomXD. Not much has been written yet, plus it's on a hiatus.
CLASSIC
: (Ongoing) Dude with a sword goes on adventures in a fantasy setting. 's pretty fun.
Appreciate
: (temp. hiatus) : High school girl's slice of life. I'm...not joking.
Oh, I also did some poetry, kind of.
Unassorted is one of (if not, the most) serious things I've ever written. I plan to redo the first few paragraphs to make it match with the rest of the story, but that's for another time. "Sorting the Unassorted", which is the last part of Unassorted, is also my award winning (Hahahaha it's funny cuz it's kinda true) entry for KHI's Shippers Contest.
Stuff from the month long writing challenge! Spelling and Grammar Errors abound! Like, more than usual.
Hey look, something new! I wrote this years ago, but never actually finished it. It's a neat little spy-like story set in a futuristic city. It's fun to look back on old stuff, even if it ends rather abruptly.
Last edited: