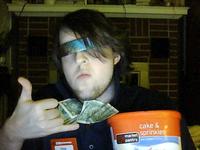 Joined

Jun 9, 2005
Messages

9,258
So I was thinking about BBS.

I always had found it very strange that the way Terra summons his Keyblade seems entirely different from that of Sora...Sora's is summoned in what appears to be a natural sense, lights and sparkles flash around and form into the keyblade...but with Terra, it seems like weird blue particles form it...reminiscent of...electricity..or technology/data

Essentially, it reminded me a lot of how it looked when Roxas summoned his Keyblade within Ansem the Wise's data Twilight Town..

So that got me thinking...perhaps both instances differ from what we would consider a "normal" summoning animation, because they're both what it looks like when a Keyblade is summoned in a digital world...? What I'm saying is, what if Birth By Sleep is a simulation? What if the events taking place in the game, is someone reliving the past in a similar fashion to that of the Data Twilight Town?

Now I don't think that Birth By Sleep's events are fake...no, I'm sure the events in the game actually took place...but what we are actually playing in Birth By Sleep is just a simulation of those events.. And, based on my connection drawn with Roxas's Data Twilight Town, we could assume that it's with Ansem the Wise's technology..or something similar.

So, perhaps Birth By Sleep is just a reliving of a someone's past, experiencing the memories locked away inside them through a simulation, which fabricates past events/memories the same way Twilight Town existed as a simulation within Sora's mind. And when you think about it, Ansem the Wise's data world was used in the assistance of returning Sora's memories...

So, if a certain someone we know has no recollection of their past, and has access to the same technology that Ansem the Wise clearly had at his disposal...perhaps Birth By Sleep's story is of that person's past, experienced again through a computer and used to return their memory to them.

This scenario fits rather snuggly with the game's title, and at the same time leaves room to give insight on the enigmatic "Room of Sleep" and "Room of Awakening", which we learned of in Final Mix+ but know nothing of.

In order to gain his memories back Sora had to be asleep, and the process of getting his memories back had him seeing his past in the form of a data simulation. Your memories return to you through a process involving sleep, hence "Birth by Sleep", so the game's title would imply precisely what Sora went through..only I don't think it's talking about Sora, it's talking about someone else.

Perhaps Birth by Sleep is taking place in either the "Room of Sleep" or the "Room of Awakening", or through it's story we'll inadvertently find out what they are, where they are, and what their purpose is.

So, in summation...Birth by Sleep could be a simulation using Ansem the Wise's technology to relive their past and return their lost memories. Any thoughts?
Last edited: