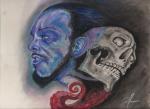 Joined

Dec 23, 2005
Messages

3,803
Awards

1
Age

33
Location
Website
But seriously, what's up everybody it's been quite a long time since I've posted any art here and what with quiteMAD posting some of his newer additions I figured I'd do the same.
Here's just a couple of things I've been doing from class and otherwise personal works.
An Acrylic portrait of a Jumping Spider up close, I hadn't used this medium in literally 5 years prior to do this and I've never painted on canvas before. I'm happy with the results even if I do hate painting.
Just a quick 10 minute pastel sketch of a frog; original intended to be a preliminary for one of 5 possible options of a final piece I was doing in Alternative Mediums class (i settled on the spider obviously).
What started out as a movie poster gradually sorta morphed into something more. I eventually edited this into a movie poster format but the original piece just works so well on it's own and I rather like the symbolism in it. This was done in a water color base then I went back over it in pastel and white charcoal to fill in the details. This is the first time I've ever colored one of my pieces in anything other than natural skin tones.
A bit of an add-on for the movie poster idea I gave above only this is the CD design. Ironically the design is what I'm now using as my tag for everything I do now. It's always been ProperlyMAD but, now I've really got a design I can get behind (quiteMAD's old design is awesome too though-see avatar).
Here's a sketch of the Rock, The People's Champion, The Great One. I still have yet to finish this, I dunno something about going back to it more and more just aggravates me the more I look at it. I kinda wanna start over and work on a bigger scale since all my other pieces for class have been much grander in size lately. Still I've put in too much detail now to just stop...
What I'm currently working on with Oil Paints. I've never actually used this stuff before so this is kind of a work in progress. This is also just the preliminary 8 x 10 painting of what the real thing's going to look like which should be 16 x 20 at the smallest (I'm really wanting to go bigger on this one). I'll let you guys figure out what it's supposed to be.​
Anywho I just figured I'd show you guys what I've been up to in my absence, man I really gotta stop leaving for long periods of time....