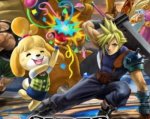 Joined

Feb 15, 2012
Messages

4,550
Awards

2
Location
Still doesn't explain the eyes though. Riku's eyes never went yellow like that while using generic darkness powers. Plus the way this trailer positions her with the other Seekers, sigghhh that's probably where they're going with it.

But hey, maybe she's a Replica or something. Or maybe like the Riku Replica fused with her, and now they're going around getting revenge together.
Yeah, I realize her hair color and eye color lean toward Xehanort, but I just think its doesn't make sense in a few other ways as well. But yeah it is possibly obvious with her being in clips with a bunch of other Xehanorts lol.
Way after. The way he talks, we should have rescued Rex from the Dinosaur, Hamm from the doll, and the aliens from Vic the Victor.
Ah, right I did see Rex there. I guess that opening section with multiple bosses probably takes quite a while, but most of that was just in the demo from back in May, right?