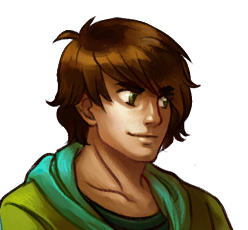 Joined

Feb 23, 2009
Messages

2,694
Age

27
Location
Website
Please Jack In to continue
Jacking in to the Net, please wait a few seconds and do not jack out…
Loading...
Accessing database...
Transmission Complete.
Greetings, fellow Netbattlers.
This is an automated message left by my Creators.
By entering, you shall take part of an adventure that might change your real and cyber lives. You may participate in the N1 Grand Prix or even try to stop the evil Net Cryme Syndicate, URL. Please note that in order to ensure the well being of your Net Navi, we highly recommend you jack out when your Navi sustains massive damage in order to avoid deletion and having a back up program of your Navi ready to run in a day's notice.
Everybody involved will have a Net Navi, and as a result, you will have to submit a temp for both the human operator and their NETwork NAVIgator. However, there are cases where Net Navis live without Net Opts, in which case only the Navi Temp will need to be filled, though these are exceedingly rare occurrences.
Will you help save the world? Or are you part of the URL, attempting to conquer it? Maybe you're just here for the N1 Grand Prix Tournament? When you are ready, please submit your temp!
Rules
-No Powerplaying
-Cursing is fine, just don't go overboard
-Try to be active, at least a post a week is good
-A post should, at the very least, be a decent sized paragraph
-You can either be a normal civilian, or a part of the URL, the evil group that wants to take over the net
-Add "Battle Routine Set. Execute!" to the top of you temp for poops and giggles
-Most Net Navis come with an element and a style, however if a Navi has no style, than it also has no element, and vice versa. This means you can choose between having an element Navi, or a more "plain" Navi.
-Your Navi can also have any equipment you desire, including weapons (Like Protoman's blade arm, or Tomahawkman's Tomahawk), just include it in the "other" section of the Navi's temp.
-Hub, Bug, Ground, and possibly Shadow styles will be locked out of this RP. If anyone wishes to uses any of these, you'll have to have a talk with both Seraph and I. Note that Hub style is definitely out of the question.
-Feel free to ask either Seraph or myself any questions or concerns you have
-Enjoy yourself
Temps
Operator
Name: (Please insert your first and last name)
Age: (Unfortunately, regulations say that only people ages 13 and older may enter)
Gender: (Our database only shows two possible entries)
Personality: (Please give us a short (at least a paragraph) description on how you behave)
Appearance: (Please give us either a short (at least a paragraph) description on how you looks like, or scan a photo. Note that most Navis have a distinct insignia on their person that they share with their Operators. Anything from a single line to an depth-wind design will work.)
Bio: (Please give us a short description on your past experiences)
Other: (Any other information you would like to share)
Navi
Name: ("Man" suffix not necessary)
Gender: (Male based Navi, or female based?)
EleStyle: (
Here
is a list of elements, though it's not limited to just those. Styles include Null, Guts, Shield, Custom, Team/Brother. If you need help, please visit
here
for assistance. Additionally, if you have any ideas for a unique style please discuss it with either Seraph or myself.)
Appearance: (A short description on how your Net Navi looks. Note that this can stretch anywhere from humanoid, to robotic, to beastly, to monstrosity. Let your imagination go wild)
Other: (Any other information you'd like to share, including abilities, weapons, and tools)
Current Battlers:
[TABLE]Net Op|Navi|RPer
Bowen Solanum|Acilnor.EXE|Keyblade Seeker
William Garder|Tex.EXE|CD-Man
Taylor Lyndis|WombatMan.EXE|Mirby
Miles Red|GuaraguaoMan.EXE|Seraph
Lilly Sable|Isis.EXE|CD-Man
Gregory Lyndis|Pluto.EXE|Mirby[/TABLE]
Locations (More to come!):
ACDC Town/Den City - A large busy city that offers something for everyone.
SciLab - Number one place for all Net questions, comments, or concerns. The Net Officials are also located here, along with tons of scientists.
DenBeach - A beach near Scilab that's about to open a water park right in the middle of the ocean! Technology!
N1 Grand Prix Arena - A large dome out that is located right by the ocean. A large bridge spans to it from an area near SciLab.
DenWater World -A newly opened water park that floats in the middle of the ocean. It has safety precautions in place to prevent sinking.
Last edited: