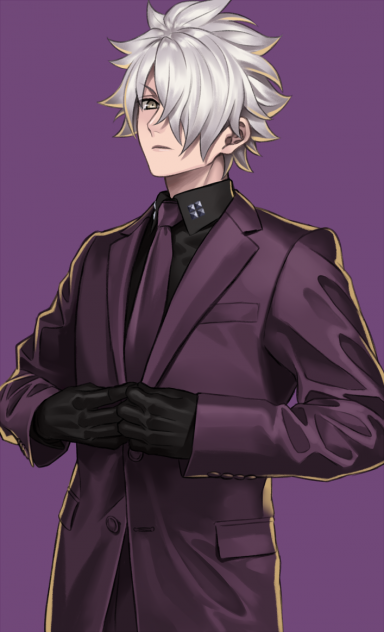 Joined

Oct 3, 2006
Messages

2,200
Location
Author's Note:
Hello again, I have been gone for quite awhile since the last chapter of Alteisen Record: The Other Side. Here I am again with a new title! But what about the previous title? Fret not! I'm 70% done with the new chapter and no it's not dead yet. Alt will still continue his adventures upon the unknown reaches.

But for now, this title has been sitting for quite some time now in my laptop and figured, why not give this one a chance? So here it is in all its glory. Bit something different for you guys and gals. Hope you enjoy!
-------------
My name is Walter Olven. I am not the fastest man alive, I am not the impossible, not a man of tomorrow, nor an ever-vigilant dark knight that looms over the night.

I'm just an average kid, the nerd, the one that everybody picks on if they would see me in their foulest of mood. I live in a world where men fly, gods live among mortals, and even beings from other dimensions--planets even walk our realm. My parents didn't have Superhero backgrounds exactly, I live in a simple home, middle-class family.
Yes, I am living in an old world comic book fan boy's wet dream. I would share the same sentiment, but not all of us here in the New World are Superheroes, I'm just a potential Superhero/heroine's damsel-in-distress, and an innocent bystander that is forced to run whenever there's danger or supervillain afoot.
They say what doesn't kill you, makes you stronger. But I'm beginning to doubt whoever said that proverb. Just this last month I got curb-stomped so bad, that it chipped by vertebrae. I had to be hospitalized for 2 weeks after that incident. I knew who did it, but I chose to keep my mouth shut or our resident jock, Richie Marcus might do something worse. So no thank you.
You know what's worse? Richie Marcus is a Novus, or to what we call ascended humans, or put it simply, he's a superhero. Goes by the moniker of Boulderdash. And he's even open about it on school, that's his status quo, no secret identity code whatsoever.
Because he was confident that even though his identity was an open-book, no supervillain nor criminal could threaten him. His family's rich, his Impact Man, one of the head of the Metro Sentinels, one of biggest superhero team to rival the Supernova League, the prime league of superheroes,
You would be wondering why they would pick on me when he's a superhero, don't ask. Because I am just as confused as you are. Not all Superheroes are what the media tell them they are. Most of them just put on a pretty face on the cameras to feed their need for popularity. They're not only fighting crime, but also fighting amongst each other through popularity politics and all that.

They're not fighting crime nor fighting supervillains just to help people but only just so they could get money, sponsorship, and all that. It's sad, but it's the ugly truth. You would think these Superheroes would've made the world a better place but it's the other way round.
In a world where you can be a superhero, whether through science, freak accident or mutation, you would think it would be easy to just give yourself a good chemical bath and then bam! Instant superpowers! But no, it's not as easy as it sounds. Because... I've tried... but it just did more harm than good to me.

I am no scientific genius, only dabbled in basic electrical-engineering; I've tried throwing myself into a pool of whatever chemicals I've mixed up on our house, only to burn my left arm upon discovering that I've only concocted hydrochloric acid.
I've tried and tried, nothing, no mutations and no superpowers. Plus the constant bullying and being a personal gopher for Richie Marcus didn't help either. Not one bit. I hated my life.
...until... she came to my life... the superheroine that saved me from this never-ending daily life of torment. And helped me find a new reason to keep on living. This is not an epic story of a superhero that saves the day, but how one mortal changed both a goddess' life and others, how a male damsel-in-distress became one after a heroine's heart.

This is how her path and mine crossed through the ends of the universe and back.
-------
Chapter 1: The Woman in Red
It was the year 2777...
An astronomical phenomena or anomaly known as the White Bang has occurred widespread throughout the galaxy, as the Cadeus Nova star, the white star that centered the Milky Way galaxy, collapsed and went supernova. Its massive white rays erupted throughout the galaxy, recorded as the biggest supernova in eons, and considered it as the 2nd Big Bang.
But instead of the White Rays destroying everything in its path, it just enveloped everything within the encompasse of the White Storm for a few seconds, then just vanished, like a light bulb going off.
Among the heavenly bodies that were consumed by this massive light surge was our solar system. The planet Earth bathed in its rays, exposing every living thing to the radiation. Two years after the event subsided, people of Earth began to exhibit various mutations that either augmented their physical state and attributes, or warped them into horrible monstrosities.
The ones that were blessed with either superpowers and became the
Nova
, claiming themselves as the next step towards human evolution. Maybe even the full potential of human evolution. Those whom were... less fortunate, became the
Anomalus
, freaks of nature and rejects of human society. More than 80% of them became known supervillains and arch-rivals to the Nova.
There were blessed, there were cursed, then there were ones that were... well not to call them unfortunate nor blessed. They were exposed to the White Storm, but it either didn't worked on them or they were in a slow process of developing.
Though through the years that gone by, even those without powers became superheroes of their own. Either through peak training or martial arts, these "normals", as the Nova call them, strive to fight and protect citizens ranging from petty crime, to organized criminal syndicates.
Though some Superheroes are reluctant to acknowledge them, there work and results were undeniable. The most prominent of them,
Grey Knight
, has been recognized and even worked hand-in-hand with the most powerful of the Nova too.
Over the years gone by, the 7 of the most powerful of the Nova, banded together and formed the
Supernova League
. A massive, and organized superhero association, sponsored by the United Nations and other multi-billion corporations to help protect the citizens from crime and supervillains.
As years went by, the Supernova League ranged from 7 members to more than 7000 and still counting. Aspiring superheroes set their goal to becoming full-time member of the League. The Supernova League was also undiscriminating to both Nova and Normals to join, so long as they had what it takes or be picked/scouted by founding members or high-tier members.
Since then, off-shoot superhero bands and teams began to form around the Supernova League, both affiliated and unaffiliated. Most of these teams were stepping stones for would be Supernovas to join the League itself. These new superhero teams ranged from diversity-based, age-based, gender-based and even theme-based but all of them had the Supernova League as the ultimate goal.
-------
York State University, Class 2-D
"--and on the date of October 8th, 2777; the astronomical event known as the White Storm consumed the galaxy--"
It was history class for the twelfth-grade students of class 2-D, every doting eye of each student has their eyes on the board and their attention to the lesson, while others just slack off and doing extra curricular activities just hidden from the eyes of the teacher.
Third row, 10th seat on the left, sat a troubled teen scratching his horrible itch on his fringes. He was scratching it so profusely that his attention to the teacher slowly slipping away and his glasses slipping down, making a mess of himself as the itch went on.
"Grrr... the itch! Goddammit I knew I should have drank that substance! I thought I was done with the crazy experiments, but noooo... my impulse had to kick in!"
The teen quietly regretting his action prior to this, and berating himself for doing so.
"Wh-wha..."
Before he could itch anymore, he noticed that the hair falling out of his head were white as snow. Ignoring the itch, he quickly reached into his bag to grab a mirror. As he looked as his reflection, majority of his bangs were white as if it's slowly losing pigment.
"A result!? Hmm..."
He wondered for a bit if his effort to have superpowers begin to yield significant results.
"Maybe if I..."
He slowly held out his hand, pointing to the trash bin near his seat.
"Hmmmm!"
Concentrating, he attempted to move the object. Tried hard as he might but the thing didn't budge, not even an energy blast or something.
"Or maybe--"
He balled his hand into a fist and then slammed it unto his desk.
"OW!!!!"
The immediate sting of pain swallowed his knuckles, and his cry was heard by the entire classroom.
"Mr. Olven, do you have a problem with the lesson? And how many times I've told you, no playing with paint in class! Just look at your hair!"
Loudly lectured the teacher, and the entire class laughed at his expense.
"B-But--!"
He tried to reason out, but he stuttered before he could let it out.
"No 'buts', Mr. Walter Olven, one more stunt like that and it's detention for you for disrupting class--"
Before the teacher could finish his lecturing and state the punishment, the ground suddenly shook, an explosion from streets, just beyond the classroom windows. Security protocol sirens began ringing throughout the establishment, signaling a monster/Supervillain threat afoot. Two of the students within class stood up with their hero badges lit up.
"Mr. K, we have a job to do, can we be excused for a moment?"
Asked Richie Marcus, aka
Boulderdash
the resident Superhero of Class 2-D. "Of course, of course, proceed." The teacher hastily responded, with a bit of dismay.
"Yes, let's rock this mother!" Roared Richie as his suit formed around him, transforming him into his superhero persona. As the two teen Nova zoomed out of the classroom the classroom's blast shielding on the windows folded down as part of security protocol. The teacher then attempted to take control over the class before proceeding back to the lesson.
Bit troubling that these threats were becoming more and more frequent each passing day, there was fear that when these events continue to persist, the administration might close the University down and transfer the students to another school. Walter himself was already transferred three times because his past alma matter were either closed down or became collateral damage to superhero/supervillain fights.
As the class concluded, the threat outside has also been neutralized. It was dismissal, and every student were now preparing to make their way home. Walter slumped himself and his heavy bag towards his locker. The itch was gone but the white fringes were still there.
"Ugh... this'll never come off."
he grunted as he brushed up his hair. As he sorted his textbooks on his locker, suddenly, the locker swings shut.
"AAARGHHH!"
Walter's hand was caught and pinned in the locker door.
"Well, well. Our good friend, Walnut. Got the time?"
Two tall male figures loomed over the squirming teen.
"Yes! Yes! Just let go of my hand--ow! ow!"
A snappy response from Walter followed, his threshold at his limit and his knuckles slightly swollen and slightly bruised. It was like being caught on a toothless bear trap.
The two male figures, Brute and Chipper, were one of Walter's resident bullies in and out of the school. And both of them answer to Richie. Or to put in a straight-forward manner, they're just two of the members of Boulderdash's "Fan Club", basically it makes up 70% of the entire student body. Had a very size-able influence over the faculty and school administration that they made the Student Council redundant.
"That's a good gopher. Gymnasium Shed, 20 minutes. Be there, and make it snappy."
"See ya, loser!"
Chipper slapped off his glasses to the ground then proceed to kick it under the locker. Distraught and distressed, Walter fished his glasses under the small slit of the locker. He didn't utter a word as he made his way to the Gymnasium. It was a daily thing for him, but, the look in his eye says that he had enough. He just got out of the hospital last week and he knew he was about to be beaten again.
Walter made it to the intended place, but he was 40 minutes late.
"Oi Walnut! Ya bloody late!"
Brute then kicked the back of his knee, forcing Walter to kneel down. He then held his head, face-down to the concrete.
"Now now, Walter, I thought I was clear back there. I said 20 minutes. Here! Now you're late, and we missed the bus home!"
Spat the bully towards Walter with unimaginable hostility.
"Got something to say for yourself, huh? Ya bloody disgrace!"
One insult over another, Brute then held both Walter's hands and then bound them.
"Since we missed the bus, we have no choice but to take the tram. Cost 80 bucks for one ticket, me... and Brute over here."
Said Chipper, when in truth, a single ticket to the tram only costs 10 bucks per head. What he demanded was way over the intended mark.
"I--don't have that much--money!"
Stammering, Walter gritted his teeth as he tried to spoke whilst his face down on the dirt.
"Search him."
The skinny bully nodded unto his muscle. The two then frisked him of his pockets, and turns out, he wasn't lying. Walter had exactly 10 bucks on his pocket... with some few paper clips and erasers.
"This's it?"
Questioned Brute to the teen, voice cracked with his cockney accent.
"That's--what I've been trying to. Tell. You. Ugh..."
Said Walter, his tone muffled and mouth pinned.
"Hmph, useless as always. We'll let you slide this time. But... don't expect us to be, tomorrow. Or else you'll be frequenting more in the hospital than in school."
The two bullies then loosened their grip and let him go. Him being robbed again of the only means to get home. As the bullies went on their way, Walter then easily escapes the bind that Brute made. Him not being able to make a good knot worked to Walter's advantage. Picking himself up, yet again, Walter dusted himself up and went on to a pedestrian route towards the Yorker Suburbs.
The pedestrian route itself is littered with thousands of non-commuters, not to mention always congested due to the pedestrian traffic. It was also a good route to get robbed of your purse without being noticed but luckily, there was nothing to steal from Walter, other than paper scraps and books and school supplies.
You would think, all these monster/anomalus incursions and attacks in addition to unavoidable collateral damage would've caused the human population to plummet but no. The population boomed even greater, mostly on metropolitan cities--maybe on yellow zones too.
---
Since the emergence of these superpowered beings, Nova and Anomala, the world, most importantly, the society has changed. Majority of countries of the United Nations had segregated Nova, Humans and Anomala into castes. The White Storm also had a significant effect on animals and plant life, mutating them also.
Portions of each country, states had become inhospitable due to the drastic change in the ecological biosphere. These environments/areas deemed unfit for human habitability. Hence each state had been split into three zones. The Metro, Yellow and Red Zone.
The
Metro Zones
were where majority of the human and nova population take residence. These populated zones made up 70-90% of a single state. The Metro, through the help of the government and the nova, maintained its self-sustainability, although the increasing population within the zone was beginning to prove to be a problem. Hence why majority of means of transportation was abolished completely, so instead, the residents of the Metro were advised to take the mandatory sky tram lines with a very strict schedule. They operate from 5 in the morning 'til 8 in the evening; with the last ticket line assembles at 6. Those who didn't make it will have to take the pedestrian lanes.
Yellow zones
are the slums. Breeding grounds for Anomala, humans that couldn't afford to live in the metro resides here. Criminals, cartels and supervillains all reside here. The very picture of broken dreams and promises, the Yellow Zones stands on the ruins of the old world; rundown buildings, shantytowns, and makeshift houses comprised the entirety of the Yellow Zones.
Though some these zones had fertile soil, human residents could not make use of them because of High Criminal Syndicates and Supervillains owning the land. In these lawless lands, you are in constant watch for both your belongings and your life.
Red Zones.
Inhospitable areas, unfit for human life. Most Nova and Anomala steer clear of this place and only a select few of them can venture within these barren hells. Local talks among the Metro that beings that surpass Nova and maybe even worse than Anomala reside within these zones but couldn't prove it otherwise. Red Zones were basically either barren wastelands, or ground zero of irradiated seas. Mutants, monsters and very powerful Anomala often sighted within these forbidden borders. Supervillain overlords also use these areas as places of exiles for their useless minions and worthless accomplices. Basically leaving them in the mercy of either the gamma radiation that floods the air, soil, and waters; or the horrible inhabitants of the said place.
---
"What the hell?"
A gathering commotion suddenly commenced in the middle of the busy lane. Heavily congesting the path further, people stopped at their tracks and looked up on the night sky.
"H-Huh? Hey! What's going on?"
Walter bumped at the person in front of him, baffled as everyone else. He quickly noticed a bright light from up above. Tearing through the night sky like a slow-moving shooting star. Only then that crowd noticed that this unidentified object's trajectory was heading right at them.
"It's coming right at us!"
"Run!"
It didn't take long before the entire pedestrian lane descended into chaos. With sheer panic of the thick crowd, Walter was easily mobbed, neither forward nor back could he proceed. His fragile frame was being shook by the tide of the panicked crowd. He was then knocked over his feet by a stray bag that tripped him over.
"Oh no-no-NO--OH SHI--!!! Aaah!!!"
The unidentified object was closing in fast, and majority of the populace has fled the scene. Before Walter could pick himself up and run for cover, the bright object plummeted just a few feet from him. And the impact sent everything flying including his fragile frame. His body rolled through the concrete and debris, hurting both his shoulder and back.
Minutes passed, it seemed like an eternity for Walter. The sound of crackling fire, the ash and smog that filled the air, and sirens of incoming Metro Authority Police. The impact of the crash rendered Walter's hearing, temporarily deaf. He pulled himself out of the rubble, thankfully his limbs were still in one piece, although slightly bruised and wounded.
He slowly stood up, and quickly noticed that the place of impact was a few feet away from him. The impact caused a size-able crater that punched through the solid concrete. And from the looks of it, the object itself "melted" through the solid rock like a hot ball of nickel on an ice block.
Walter climbed the debris, and saw the unidentified object: a woman. But from the looks of her outfit, although scathed from the impact, looked like she was a Nova, a Superhero even. The unconscious woman wore a pad-layered suit of elastic material with red glowing contours that drew across her body. She dons armored gauntlets and boots and wears a full-head helmet with a red face visor.
The teen carefully approached the unconscious woman in red as residual energy was still being emit from her suit. Slowly he reached his hand to her visor, and the visor immediately opened, revealing her facial features.
"She's---"
Mesmerized by her beauty, Walter found himself entranced by her. But before he could say or do anything, the woman's eye opened, her eyes glowing like two orbs of lightning. And with great speed, she lunged herself at Walter, moving him out of the way for an incoming attack from behind.
"Ugh--ah! Lookout!"
Walter reacted quickly as he saw another attack from an unknown looming figure behind them. He went for her and embraced her to move her out of the way. This time, he saved her in turn.
"Thanks. Now, get out of here. As far away as those legs can take you!"
The woman in red thanked Walter and she quickly stood up. Her visor slid close and turning her attention to the looming figure. A monster, an abomination. She clenched her fists as she emitted red electricity upon her gauntlets and took stance.
Walter obliged and quickly hid from the nearest debris. He peeked his head up, and made a quick look at this woman in red one more time. From her get-up she looks like one of the members of Supernova League, maybe even member of the off-shoot branches of it.
But then she would have to have her own crest, and it would appear that she had none. And from the extent of his knowledge of Superheroes and their respective teams, since he is a very big fan of the Supernova League, Walter couldn't recognize her in any of the Superhero roster. Maybe a new recruit?
The teen would've bolted out as quickly and as far as he can but curiosity came over him. As he was very intrigued by both who this woman in red was and what was she capable of.
The abomination and the woman in red took their stances and prepared to square off. The gleaming two sets of eyes of the abomination was set upon its opponent, the noticeable cuts and damaged exterior of the abomination marked it, the result of the attacks of the woman in red. Without any more second to spare, the abomination charged and dragged its lumbering claws through the ground and began maiming at its opponent at a surprising speed. It may look big and cumbersome but this monster was agile and fast, a quality of an apex predator.
Using her powers, the woman in red exhibited her superspeed through her reflexes. She was moving so fast that she would appear as if she was blinking from one spot to another. Leaving lightning after-images of herself as she skillfully dodged every swing of the abomination's claws. The after-images she was trailing behind helped her keep the monster disoriented. But disoriented as it may be, the abomination was persistent.
Using her superspeed, she evaded a massive thrust. With her reflex and momentum, she spun around and then connects a powerful swinging lightning uppercut, right at the abomination's jaw. The impact of the punch was enough to make it flinch, exposing its torso. She then connects multiple lightning punches, all hitting like a high-powered machine gun, heavily damaging the monster's torso. With one last punch, she pushed the monster back. The woman in red then went into a squat stance and then jumped right at her enemy, using the momentum to deliver an explosive blow that sent the abomination flying.
"Wow... Superspeed. So ummm..."
Amazed and surprised by the exhibition of ability, Walter hastily reached in his bag and pulled out his special notebook.
"Superspeed... energy? Lightning generation?"
He then quickly wrote this unknown superheroine's abilities as he observed the ensuing fight.
"But how fast is she? Is she as fast or faster than Lightspeed? Rapidez? Maybe Cheetah-Man?"
Even with the ensuing chaos, Walter was comparing and calculating data to the woman in red. He then peeked out of the debris shelter again,
"But does
she have super strength too? Maybe she's using her speed and built-up momentum to augment her every attack--"
And the analysis and hypothesis went on and on.
Meanwhile, back at the fight, the abomination quickly recovered and was now angrier than it was before. Its bio-luminescent blood boiled as it manifested glowing veins upon its body. With a huge bellow, it then grew a pair of massive bone-like talons on its arms. With a single swing, it launched a long-ranged slash upon the woman in red. The attack was devastating as she thought it would. She would've been hacked into pieces if she took that attack.
As Walter was furiously writing data, the support on his debris shelter began to gave away because of the monster's attack. Everything went silent as he noticed the debris toppled to the ground and him completely exposed. The sound was enough to have caught the monster's attention. Its glowing set of eyes now set upon the helpless Walter.
"Uh... hi?"
Confused, he made a mistake of making a small gesture.
With a fearsome roar, the abomination went straight after the teen.
"Crap-crap-crap!!!
" He panicked and quickly grabbed his bag and made a run for it. But as soon as he made a dash for it, he was quickly corned as his cover was quickly blown. The abomination was as fast as it was big, as it took mere seconds for it to be caught up with Walter.
With a huge swing, the monster dragged its massive talon through the ground. There was no margin Walter could escape to, nor did he had any ability to. He was just a human after all. He braced for the worst and shielded his eyes with his arms. Before the massive talon could touch the defenseless teen, the woman in red suddenly appeared between the two, and blocked the incoming attack with her right arm and shoulder. The attack chipped off a nice portion of her shoulder armor. The fragments of her armor ricocheted and hit Walter on his chest.
"Huh...?"
Walter cleared his eyes and fixed his glasses, as he felt the armor fragments from the woman in red, slapped his chest. He picked some of the fragments and examined them.
"Why are you still here!? Go!"
She yelled at Walter,
"Right! Sorry! --Going!"
He stumbled as he pulled his bag out of the debris and then ran as fast and far as he could. He then made it onto a safer distance, supposedly, and observed them from there. Instead of taking notes like last time, he had his full, undivided attention to both adversaries going at it.
The woman in red then deflects the talon and then takes stance to build her momentum. But the abomination connects an overhead swing of its talon upon her. Using her superspeed, she emitted a light-speed vibration unto her arm as she held it up. Using the intense oscillation, she easily vibrated the air molecules, creating an invisible force-field solid enough to deflect the massive blow.
Recklessly, the abomination tried to follow up with another swing. But the sloppiness of it enabled its adversary to catch it with her two hands. With a powerful heave, the woman lifted the monster 10 feet off the ground and then slammed it to the ground. In
mid-spin, she vibrated her right arm in light-speeds again, accumulating red lightning streaks, and mass on it like a small tesla coil.
"HAAA!"
She connects the final blow unto the abomination's chest. The force of the blow imploded upon the monster's frame. There was no shockwave, but the impact, if given more momentum could level an entire city block as the blow itself made the solid ground cave in.
The dust cleared and the aftermath was revealed. The monster was nowhere to be found, just its blood spatter on the impact crater.
The woman in red's final blow literally just erased the abomination's physical presence from existence. There was none to be found, other than the woman in red standing triumphant.
Walter quickly rushed to the impact crater, towards his savior.
"--Whoa!"
He was gonna slide down the impact crater but it was deeper than he originally thought.
"Wh-Who--"
Walter was about to ask question to her, but the woman then launched herself up in the air with a trail of red lightning then instantly disappeared in mid-air. She was gone without a trace.
After the incident, the authorities and a few superheroes moved in to the area. Apparently too late for the action, and most of them even had the gall to claim credit. Sewing made-up stories, fights with a particular enemy--the usual Superhero publicity.
There was no other witnesses on the incident other than Walter, but he had fled long before the commotion arrived as he was uncomfortable being interrogated by authorities. The area was closed off for the time being and only a hand-few superheroes held the area for investigation.
Walter on the other hand, made it on his home without any more further incident. As he laid on his bed, he noticed he still had the armor fragment from the woman earler.
"Hmmm..."
Back, front, and side to side; he examined closely the fragment. It looked like some kind of crest, like a part of a whole. The fragment had a shaped of a dragon head and what looks like its wing. He can't make it out since its just a part of whole.
"Who is she? Where'd she come from--"
Questions upon questions, queries upon queries. Walter drowned himself of the mystery of that is the woman in red. Even until he fell asleep, exhausted from both school and the incident. Even as he slowly drifted to sleep, all he could think about was her face and her vague-ly blonde hair.
----
"Alright class, we have 2 new transfer students here in our class. Our first transfer student hailed from Mojave State University from Nevada--"
The next day in school, 2 new students were introduced in Walter's class. One was a girl with a very statuesque presence, her stance was strong and her figure well-defined like a goddess. She sports blonde hair and has red eyes, which implied that she was a Novus. Needless to say, her presence quite easily caught the male members of the class, except Walter who was busy with his personal notes.
"Why don't you introduce yourself first."
The teacher prompted the first one to take center stage. And that she did.
"Hello! My name's Ailana from Nevada, I just transferred here in Yorktown State just last week! Nice to meet all of you~!"
Sure enough that the male and female members of the class were swooned by her personality, like a leading candidate of a prestigious beauty pageant. And before the teacher could continue...
"Ailana, your eyes--are you a Novus?
"Yeah, are you one of the Superheroines?"
"What's your superhero name?"
Questions began piling up, it was as rowdy as a press conference. Ailana giggled at the warm reception.
"Well... Yes I am a Novus, but I'm not a registered heroine yet, but I'm working on it! Don't worry!"
She replied, but only to be followed by a mob of more questions. The majority of the class were just woo-ing and screaming for her like some sort of celebrity. But Walter's attention was caught by her answers and her appearance.
"Wait a minute..."
He pulled up a rough sketch of the woman in red, and compared his clues to Ailana.
"Is it her? But... Hmm... it can't be. Or maybe... hmmm... She said she doesn't have a pass yet to be superheroine, and her hair. I need to investigate further."
Walter said to himself, adding more data unto his notes. His pen busy scribbling and writing details.
"Alright! Class, settle down! Quiet! Now... our last transferree student came from--uh..."
The teacher then looked at the next transferee's entrance paper. But couldn't continue.
"It's okay, sir. I'll take care of the rest of the details."
The 2nd transferee took over and took the stage. She was short, roughly 5 feet flat in height, she was simply-dressed with her cardigan over her blouse. She has slightly messy red-hair and had big glasses on, she had a slightly tanned complexion and had a slouched stance about her.
"H-Hello, I'm Thea Eissen from Point Lookout county, Maryland. Uh... umm... nice to meet you all!"
If Ailana was proud and powerful, Thea, on the other hand was weak and awkward; a complete opposite. And just like Ailana, the class began to stir up a commotion of whispers and quiet gossips. Then finally, Richie Marcus stood up from his seat and pointed at Thea.
"
Point Lookout, that's a Yellow Zone! How were you granted residence here in Yorktown? You some kind of Anomalus?"
"Yeah! Are you some kind of freak!?"
"Don't get any ideas, freak! We have 2 superheroes here who will whoop your butt!"
It was the complete opposite also. Instead of admiration, it was disgust, insult and rejection. Thea hugged her textbooks tight, and her fist clenched, utterly holding her tears back from the shame and heckle of her own class.
"Alright, class that is enough. Both of you, take your seats--"
The teacher quickly doused the commotion and took control over the class. He then searched the classroom for vacant seats for these two new students.
"Ah! Both vacant seats on either side Mr. Olven."
He then assigned the girls to the two vacant chairs beside Walter. Ailana sat on the left while Thea on the right facing the window.
And so Walter had just crossed paths with the girl that will change his life, forever. But who was she? Was it Ailana or was it Thea? Or maybe none of the two? Only time and fate can tell.
To be Continued...
Last edited: