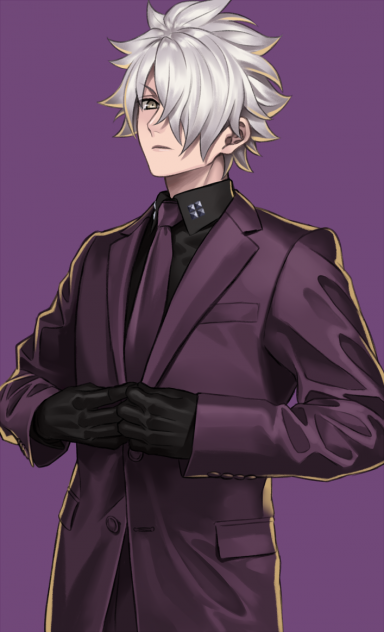 Joined

Oct 3, 2006
Messages

2,200
Location
Note: Hey all! Know it's just been a while did I just release a new chapter for Astonished/Amazed. But I decided to write this out of imaginative drive, just two-shot story that takes place some time AFTER the main story.

A Gaiden or side story, or maybe even part of an epilogue, between the main character, Walter Olven and.... "Her". Unlike the main story, this won't be an action-fueled short story, but rather a dialogue-heavy one, emphasizing on Walter and "Her"'s interaction with everyday life.

The character "Her" is the one who will Walter will end up with in the story. I won't say who she was, it'll just unfold as they main story goes. But for now, I hope you all enjoy these little tidbits.
==========================

Wish
Walter was on the way from school, having completed their club activities. There was a person on his mind as he made his way to his house.
"She was really amazing."
Her cooking had improved by leaps and bounds lately. She had always been good at picking things up from the advice he gave her, but her recent progress had been shocking.
"Fancy meeting you here!"
She greeted Walter a few meters near his house.
"Oh! Didn't expect to see you here, what is it?"
,
"Are you free now? You are, aren't you?",
"I didn't have any particular plans…"
,
"That's good! Can you meet me at the cafe near the shopping center? I'm going to get changed!",
"Ah… yes of course!"
Walter stared at her as she hurried back to her apartment just a block away from his house.
"Changed?"
By the time he asked, though, she was already gone.
--------------------------------------
At the shopping center.

"There's a sale, you say?"
,
"Yes! But it's only one bag per customer, so I thought you might be of use to me."
She had brought him along to save money, it seemed, but Walter was certainly grateful for her frugality.
"If I may say…"
,
"What is it?"
She stopped as she heard Walter.
"It's nice to see you in a new outfit."
,
"I-is it? There's no particular occasion, but I had it around, so I thought I'd toss it on.",
"I think it looks good on you."
,
"You think? I can dress too if I set my mind to it!"
Slightly flustered, she held her skirt and fluttered it around.
"Hey! Headin' out with Walter today?"
As they were walking, the two came happen to come across Galil, one of Walter's club-mates at the SA Brigade. Much to her surprise.
"Ah, Galil. You shopping, as well?"
,
"There's a half-off sale in the shopping center. You heading there too?"
,
"Yes. We were just on our way."
,
"How about that…"
Galil cut off in mid-sentence, then stared at her, as if in amazement.
"W-what?! You look as if I've grown a second head."
Irritated, she lashed out at him. She has now grown conscious of her looks, almost embarrassed.
"Nothing, sorry. Ah, Walter, how are things going with her?"
"Quite well. Since my parents are currently moved to the country for business with EmpireTech. She's been a great help to me."
,
"Ohhh… the cooking and such?"
,
Galil crossed his arms and raised his brow in question. He knew first hand how… less-skilled she was in cooking. Walter just gave him a sincere response.
"She's improving, even without my help. I hope she'll have a chance to cook for you guys next time."
,
"I see… Ah! Better get going. I know you both are in a hurry to get to the sale, but be careful, okay?"
,
"Likewise."
Galil waved as he walked away, back in the direction of the apartment complex. They could only assume that he had already been to the sale.
"Well, we should hurry before it sells out."
"Ah! Yes…"
She stuttered a bit in response; perhaps she was tired. Even so, they managed to pick up some excellent items at the sale.
They then left the shopping center with one full bag each and started walking the road home. He offered to carry both, but she insisted on carrying one herself.
They were just passing by the local park just in front of the chapel when she began speaking.
"We really did get a great deal. I imagine this will last us quite a while."
There was a bit of sweat on her brow. Perhaps they had bought too much after all.
"Would you like to rest a moment?"
Walter voiced his concern. She then heartily agrees. They then sat down on a bench in the near-empty park just in front of the wishing fountain.
"If I keep up this sort of physical labor, my arms are going to get all sore.",
"But if there were a sale like this every day, you wouldn't have to buy so much each time."
,
"That's very true.",
"We should give thanks to the wives--women of the world… including you, of course, miss."
,
"W-what are you talking about?! You know it's all because I'm your girlfriend. Seriously, stop it, please."
Flustered, she immediately protested.
"Just trying to be honest."
,
"B-by the way, could you please… stop that?"
"Hm…?"
Walter looked at her, and tilted his head.
"You always speak to me so formally, not like Kurszt and Max. I wish you'd be at ease and just drop the unnecessary flattery.",
He had meant to be polite, of course, but Walter was happy to speak to her as an equal if she wanted. Though if that was going to be the case…
"...very well, I'll speak to you normally. But I'd like to ask you a favor as well."
,
"Wh-what is it?",
"I'd like you to speak to me as a comfortably as you are. No need to put up a face when talking to me or being around me. Just be yourself.",
"Very well… dear."
She replied with a warm smile on her face. Hearing her say that, he felt a twinge in his chest.
"Right… Ah, that's right. As long as we're at the wishing fountain, why don't we make a wish?"
,
"A wish?",
"You throw your coin at the fountain then tell a wish. Legends has it that this fountain was here even before this city was built and can grant any wish of your heart's desire."
,
Said Walter. At a disbelief, she furrowed her brows at the statement.
"What do you mean? Whatever is the point?",
"It can be helpful… though of course, it's hard to prove the effects of karma or any other universal forces. You never as favors from God where you came from?"
,
"We do, but I never quite understood the point. A person should control her own destiny, after all!"
She said, as if it went without saying. She was clearly a strong, dedicated person.
"It can also help you relax. If you feel like you're at a crossroads, sometimes praying can help."
,
"Hmm…"
The words didn't seem to resonate with her at all.

"Well, why don't we try it as long as we're here?"
,
"Very well. I have nothing to lose, after all.",
"Well if you count money that is."
,
"Really? But…",
"Hmhm… Well it was my idea. I can cover yours, today."
I threw some change into the fountain. It seemed to take her by surprise.
"You just throw out loose change?",
"It doesn't have to be a lot. Even a nickel is enough."
,
"I suppose this fountain is quite a miser, as well."
She crossed her arms and tilted her head at the notion. Walter just chuckled at her response.
"...You could say that."
Though a bit of a skeptic, it was so like her that he couldn't help but smile. He closed his eyes and offered his wish, and she did the same.
"--can I truly wish for anything?",

"Yes, though I'd recommend within realm of reason, of course."
,
She looked at him with a curious smile on her face.
"What did you wished for, Walter?",
"I'm afraid I can't tell you. If I say it out loud, it might not come true."
,
"Is that so?",
She asked and Walter responded with a yes. She then just giggled a bit at the notion.
"Really, what a shock. I didn't think you were the type of person to make wishes.",
"I don't like overly relying on superstitions. I believe that generally speaking, people should handle their problems on their own."
,
"I feel the same way. We appear to have more in common than I thought."
She giggled again, but this time with a bright smile on her face.
"You're right."
Being with her was certainly relaxing. Perhaps they were really alike.
"But if that's how you feel, then why do you pray or make a wish?"
She immediately followed it with a question, looking at him so attentively.
"Right now, I was more just checking in. I think that if I ever really feel powerless, that's when I'll ask God to step in. If nothing else, it relaxes me."
,
"Do you think God helps people?",
"Well… I suppose it depends on what's going on."
,
"My, that's just awfully convenient for God."
She said. Walter just smiled at the thought, recalling back what he had gone through.
"I suppose it is."
She was a realist to the end. Walter could not help but smile, though. Hours passed and the two spent their time just staring at the fountain. It was not much for a date, but somehow the two just enjoyed it in silence with the two of them together. Where words were not needed, just the company of each other.
"It's gotten rather late, hasn't it…"
She said, it was already sunset. The park now empty, with them remaining on the park bench.
"Ah, that's right."
,
"What is it?"
She tilted her head in question. Walter almost forgot something.
"There was something I meant to give you. I remember you said you wanted a token of my gratitude."
,
"That-that was… I was just kidding! I… I didn't mean for you to act on it."
Recalling her past notion on him before they got together, she immediately retracts her statement. As she saw Walter actually obliging on that spur of a moment.
"No, please, don't back down on it. It's… not what you think. It's nothing expensive--it's not even something with a material cost."
,
"Ah? Then what is it?"
Walter then pulled out an item from his pocket, stood up and handed it to her. He handed her a small envelope. The size seemed to shock her. She stood up and opened the envelope.
"This is… a front door key?",
"I had a spare made for my house. I thought that you should have it, as long as you're going to be coming and going so often."
,
"A spare key… to your house…",
"As I said, it's not a material gift, but I was hoping that the sentiment might have some value."
Walter said. She then held closed her hand and held the key close to her chest.
"Are you sure about this?",
"Yes. If you're willing, I'd like to keep things going the way they have been."
".…"
She was silent, unsure what to feel, say or think. This slightly troubled Walter a bit.
"What's wrong?"
,
"...right. Well, if you insist, I can hardly refuse you."
Though she acted grudging about it, she held it to her chest as if it were something very precious. Was she happy, he wondered. As Walter thought about it, he felt rather happy himself.
"Well, let's go home."
,
"Yes, let's get out of here."
They took up their heavy bags and began heading home once more. Something about the exchange made the walk home in the glowing sunset feel easier than usual….
End of Shot 1
Last edited: