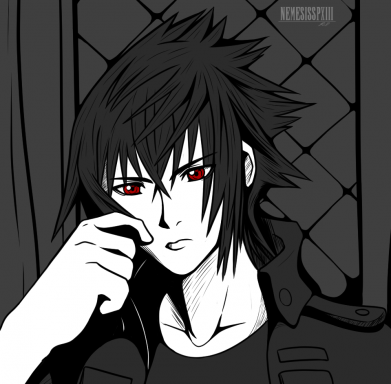 Joined

Jul 14, 2018
Messages

136
Awards

2
I've been around this forum for awhile, rarely interacting since I've had bad experiences with forums, but I've been part of the KH community since the very early days and I just want to actually be more active. I wasn't sure if I was gonna post art or my story here, but I felt that getting my work out there was more important than feeling like you're being too pushy.
Sorry about that ramble, anyway I'd really like to see what all of you think so I can improve on it and be more productive on the site.
Here's a few pictures I'm actually proud of, one of which I just finished. I wanted to upload them using the Attach files function, but they just kept saying they're too big. I hope you like them and if there's anything I need to do to make them better, feel free to let me know. I also hope I can get the confidence to do the same for all of you.
For the character the forum is letting me post directly, this is the main character of my in-progress (and heavily off schedule) fanfic
Kingdom Hearts: The Other Story
. If you guys are interested enough, I'll start posting when I get back on track... but for now I just hope you like my art first.
Omega
Age: 16
Allies: Iris, Lulu (FFX), Zell (FFVIII), Stitch (L&S), several Final Fantasy and Disney characters.
Preferred mental voices: Yuri Lowenthal or Cody Christian (English), Takahiro Sakurai (Japanese)
Default Keyblade: Steel Melancholy
Bio: A quiet young man, he rarely tells others what he's thinking. He can come off as cold because of this, but he is actually very kind hearted and willing to help others. A member of SeeD and tasked with taking down the Heartless in various worlds. In pursuit of a mysterious man in black who destroyed a major home base for SeeD. He has also become involved with another mission to help a strange alien named Stitch find his friends and family.
Skills: He is very skilled in different forms of combat, intelligence gathering and also cooking. He has decent magical powers, but prefers a more physical approach.
Fun Facts: He's yet to meet Cloud Strife, but if he did, much mockery will be made at both of them by Omega's friends for how similar the two sound and act. Despite their efforts otherwise, both Omega and Cloud will just end up proving these jokes right.
Here are some links to those other pieces I mentioned. Hope you enjoy those too.