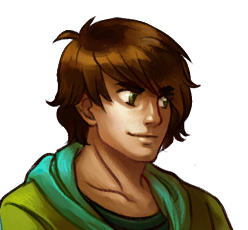 Joined

Feb 23, 2009
Messages

2,694
Age

27
Location
Website
"Nothing really happens in this town. This is a place where the front page of papers are based on unconfirmed rumors because there isn't anything else worth reporting. The latest fascination is on a UFO sighting. Unbelievable, is this a real press or a tabloid sitting on on grocery store shelves? Either way the astronomer who claimed to have seen a 'mysterious object' in the sky needs to be interviewed."
"And that's what you're going to do?" The static-filled voice on the other end of the phone asked.
"Yeah. They're handing the story to me. Almost as if they want me to show them how it's done or something. They don't seem to care that I was reassigned here as a form of punishment, just that I'm from a big city."
"You don't sound very happy about that! I would take it as a sign of respect."
"I feel like I'm being treated like a child. 'Give her this story so she doesn't make a fuss. Just toss her a bone for her first gig here," The woman ended with a loud exhale.
"Are you still smoking?!"
"Let's not start this now, please."
"Fine... But you should really quit!"
"Mmm."
"...So what's the rest of the scoop for the town? You haven't told me a lot about it."
"There isn't much to say. It's small. Well, 'small' might not be the right word for it. Underdeveloped, maybe. There are a few stores as well as a decent mall and there's a big lake nearby, but the majority of large attractions are in the next town over."
"The next town?"
"It's a short drive away and there are even routine buses that can take you there."
"You've never mentioned another city before!"
"I only learned about it recently. It's called Kern City, supposedly the name has something to do with how the town started as a corn farming settlement. It's bigger than this place but still nothing compared to the big cities in New York or Los Angeles."
"So what's over there?"
"Haven't been. All I know for sure is that there's a stadium there that houses concerts and sporting events. Maybe one day I'll be able to cover a decent story there."
"Man, you really sound like you hate it there."
"I really do."
"Maybe I should visit then?"
"Don't bother, someone like you would die from boredom really quickly."
"Lame! So hey, what would you rather be writing about? You don't seem interested in that UFO rumor."
"Hmm. Well, that lake has me curious. I could do some snooping there and hope to find something interesting. Maybe a nice unidentified body. Small towns are known for housing killers, right?"
"I think you're mixing in too much fiction with your readings..."
"Well actually, I've seen this kid walking around with a cane."
"A cane?"
"Yeah, he's got a limp."
"That sucks."
"He looked pretty young, probably late teens? Anyway every time I notice him he's on his own. I think I saw him go into a big house just on the outskirts of town. Maybe I should look into him."
"There you go! Be your usual nosy self! That'll keep you busy."
"It's not being nosy if there's a story to find."
"...Is there a story to find?"
"Maybe. Hey I gotta go. Talk to you later?"
"Sure, whatever. See you, Chase!"
"Bye, Ash. Take care."


---
​
The apartment was quiet. There was no piano playing, no violins, not even the hum of a computer screen. The only soul was that of the purple-eyed girl, whom was lying face up in her bed. I didn't talk to anyone at all yesterday, she noted to herself. All I did was stay at home and apply for jobs online. Crystal let out a soft sigh before sitting up. She glanced at the electric keyboard sitting in the corner of her room but made no motion for it. Instead she sat at the nearby desk before pulling out a notebook from the drawer. The pianist opened the book and started writing:

The place is quiet without my roommate. At first I thought it would be nice to have silence but it didn't last. I miss her: I miss my best friend. I still haven't heard back from any of the places I've applied at either. I have enough money to cover rent for at least the next two months, but I'm going to need a real source of income sooner or later. I'll head out today and apply in person. There's got to be a job somewhere in this town, right?
With that, Crystal pulled on some fresh clothes and walked out the front door of her apartment complex.
Last edited: