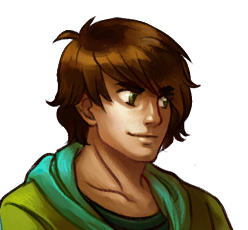 Joined

Feb 23, 2009
Messages

2,694
Age

27
Location
Website
"What if they don't like me?"
"They're going to love you."
I had a bunch to say about this, but now I can't think of anything. Oh well. Expect an update every Friday), but if I miss a week feel free to throw a shoe at me.



---
​



I stood proudly above the clouds. The mountain under my feet rumbled, conveying the sense of authority that pulsated through my veins. I heard the roar of thunder below me, and I could feel how little I cared for it. Behind my orange visor, my eyes instead scanned the darkness that surrounded me as clouds twisted around my peak. I dared them to get too close, almost wishing they would come to test me. None of them did. Placing my hands around my hips, I lifted my chin up to view a dark cloud racing at me. I punched as it got within range, and the mist easily whispered into two as my orange gauntlets racing in front of me. This was my kingdom. None would topple me. Another bolt of thunder raced below me, and my mountain began to tremble once more, this time causing me to lose my balance slightly. As if appearing directly from the dark mist, another mountain suddenly stood before me, this one taller than my own. Standing at the summit stood another person, wearing a similar orange outfit as the one I bore, complete with visor. I glared at my opponent as my mountain began racing towards her. She said nothing, only stared at me through the orange visor with a small smile. As I approached the large mountain, I made a mighty leap off of my own throne and punched at the hard rock in front of me. My fist was mere inches away from the scaly wall and just as I was about to connect with it, a sudden brightness overwhelmed me.
Sunlight poured in from my window as it lightly kissed my face. I opened my eyes and regretted doing so immediately. My blurry vision haunted my view as I tossed a pillow over my head and rolled on my stomach. My arm pushed passed a few covers and onto my nightstand, grasping blindly for my cellphone. It took a few slaps but when I finally managed to grab a hold of it I pulled it near my face, in the safety of the pillow's underbelly. I clicked the little button on the top and the screen flashed to life, showing me a picture of a basket of napping kittens. Yeah, I'm a girly girl, sue me. I looked at the digital clock just to the side of the feline cubs. 6:59. Shit. My fingers flew on the touch pad: Dash across the screen to unlock, enter the stupid pin number, enter the stupid pin number again because I messed up the first time, settings button, alarm clock button, alarm number two, now I just had to turn it off before—
7:00AM. My ears were doused with the soft piano melody that was my alarm clock, courtesy of one of my friends. She had told me this song would be helpful for me, she said that waking up to a soft piano in the morning was the best way to go. She said there was no way that I would grow tired of the song and associate it with dreadful early mornings. She lied. I growled to myself and tapped the 'dismiss' button before throwing the pillow off of myself and letting the light overwhelm me once again. I pried myself away from my bed and turned around to face it. It yearned for me. "Ashleyyy" it cooed, "come baaaack." How could I deny my bed? It's always been there for me, it was only fair that I returned the favor. I collapsed head first back onto the mattress, the familiar scent of peaches from my shampoo filling my nose.
"Five minutes." I whispered in drowsy passion. "I can only spare you five minutes from all of my minutes. ...Minutes." I closed my eyes. I opened my eyes. I checked my phone: 7:06. Bull. Ugggh. Once again I slowly and regrettably pulled myself away from my bed and headed towards my bedroom door before opening it. I walked down the hallway and, after a quick stop to the kitchen, sat down on the couch with a bowl of cereal as I turned on the TV. It didn't take long for my parents to wake up as well, and I heard their murmurers from across the hall. I ignored them as best as I could, preferring to focus all of my attention on my show, as well as the frosty deliciousness that had blissfully found its way into my bowl. I roughly made out the sound of their door open and close as footsteps made their way towards the living room.
"What are you watching?" I heard my mom say as she passed by the television and into the kitchen.
"Protectors."
"Do you plan to grow up any time soon?" She teased at me.
"I'm pretty sure there's a state law that says we're legally allowed to act like children in our own homes as long as it's before nine AM."
"They vetoed that last year." Damn. Thanks, Obama. "Now hurry up and get ready for school," she told me as she pulled a red kettle out from a cupboard, "If you aren't ready by eight I'm leaving you behind and you'll have to take the bike."
"But that bike is a deathtrap!"
"It is not a death trap."
"You don't know that! What if you were replaced with an alien last night and just want me to crack my skull open with that bike?"
"An alien? Last week I was a robot, now I'm an alien? What's next?"
"Alien robot." I whispered to myself before downing whatever milk was left over.
"Get your goofy butt into that bathroom young lady." Mom chuckled at me. "I don't want you to be late. Again."
"That was one time!" I answered as I walked into the kitchen and handed her my empty bowl. "And I'm like, 70 percent sure it wasn't my fault."
"Weren't you the one who said you could wake up without an alarm?" Damn it. I hate it when she's right. She's always right.
"Alright, alright. I'm going." I walked out of the kitchen and into the small hallway, making my way to the hall bathroom. Before I reached it, the master bedroom opened again and my father walked out wearing sweatpants and a v-neck.
"Hey, princess." He called to me as he kissed me on my forehead. "Sorry, princess." He called to me as he dashed into the bathroom and closed the door.
"Wha—Dad!"
"Sorry, this is important! Life itself hangs in the balance!"
"What's wrong with your bathroom?"
"Your mother sprayed that perfume I hate all over the bathroom."
"Why?"
"He deserved it!" Mom called out. "He compared me to Oprah."
"I said she was as compassionate as Oprah."
"He called me fat."
"Who you gonna believe?" Dad said, "The woman who birthed you, or the guy in the bathroom?"
"Mom!" I cried out, "Get your husband out of my bathroom!"
"You don't want that." Dad told me. "Let's just say if she does that things won't be very...uh, PG rated."
"This is why I'm always late!"
"Sorry, princess. If you can bear the perfume, go use our bathroom instead to ready up."
"You guys are so weird."
"You are my offspring!" Dad called, "I command you to do my bidding!"
"Ugggh."
Shower. Towel. Extra toothbrush. Lotion. Hair brush. ...Hair brush. ...Hair brush. God, I hate dealing with my hair. I put the brush back on the counter, neglecting to remove any black strands that happened to stray on it. Even if I tried, it would take way too long, and I'd probably miss some. Even though my hair only reached to my shoulders, I still had problems with it. I couldn't even imagine how people with longer hair dealt it, and it boggled my mind as to why some guys decided to grow their hair out. They have no idea how good they have it. I stared at my mom's makeup next to the sink. I never wear the stuff. I have enough problems just managing my natural 'beauty', adding on cosmetics would be like adding oil to...uh...um...I don't know, English isn't my best subject. Oil to water? Does that make sense? Whatever. I turned the faucet off as I looked into the mirror. My amber eyes stared back at me. I looked...okay, I guess. I wasn't ugly but I wasn't beautiful, overall I couldn't really complain.
"Ashley!" Mom called. "Are you all set?"
"Yeah, lemme grab my bag." I yelled back as I made my way back to my room. The blinding light that had awoken me had dimmed slightly, and my somewhat dark room practically begged me to enter hibernation. Cozy. That was the word for it. My bed was a mess, but it was the kind of mess you could just fall into and fit perfectly. A girl with less willpower would easily succumb to the desire of The Bed. But not me! I'm stronger than that. Yep, I was just going to grab my bag and walk right out. Oh, but my bag was behind the bed, what a funny coincidence! And the fastest way to grab it would be to jump on my bed and spread myself all over it. Isn't that funn—
I wasted no time in jumping on the mattress. Holy crap. Forgive me Father, for I have sinned. I rolled onto my back and stretched while letting out a not-so-lady-like yawn. This was bliss. Nothing could ruin this moment.
"You're going to be late, princess." Dad said from my doorway, causing me to yelp in surprise. "And my bathroom shenanigans won't be to blame."
"Daaad," I cried in response, "Life isn't faaaair."
"It sure isn't." He answered as he took a sip from a red mug he was holding. "But that's why you gotta play dirty sometimes. When life gives you lemons, you squirt lemon juice into life's eyes and take it's wallet." I blinked.
"What are you, some kind of mafia boss?"
"This is a nice room you've got here." He told me in a really bad Italian accent. "Shame if some...accident were to happen to it."
"What are your demands?"
"Go to school. Don't do drugs. Go to college. Don't do drugs. Ignore any dreamy boy with a guitar, and get a good job. Then, when you're rich, buy me a yacht."
"Only if you drop the accent."
"Deal." A familiar car horn honked from the front of our house, and my father's face was overcome with mock terror. "The Oprah is angry." He whispered. "Flee, young one. You must survive."
"I can't believe you called her fat."
"I didn't—!" He sighed in defeat, his fictional world broken by a single sentence. "Just go to school."
"Love you, dad."
"Love you too, babycakes."
Last edited: