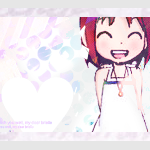 Proud Demyx/Kairi Shipper
Joined

Oct 12, 2007
Messages

4,281
Awards

1
Location
A/N:
So, I came up with the idea for this fanfic two days ago, and I've been working on it ever since. It's part of my AU where Namine was a childhood friend of Sora, Riku, and Kairi. Only this time, it comes in three parts. I hope you enjoy it!
Disclaimer: I do not own Kingdom Hearts.
Part 1: The Broken Promise​
Like many wars, it all started with a relatively minor incident.
Naminé's kindergarten class had been asked to take out their crayons for Art. This announcement was greeted with the usual mix of cheers and groans, depending on who liked drawing and who thought it was boring. Naminé eagerly took out her sketchbook, turned it to a fresh page, and waited for her teacher to explain the assignment.
"Class, eyes on me please! Today, we'll be learning how to draw portraits. Does anyone know what a portrait is?" Nobody did. "Well, a 'portrait' is what we call a picture of a person's face. So I want each of you to draw your own face on your paper."
"Can we use finger paint?" asked Tidus. It was the only art tool that he really enjoyed using.
"No, just crayons for today," replied his teacher, "Does everyone understand?"
"Yes, ma'am!" they all responded.
"Good. Okay, you may begin!"
Because Naminé was constantly drawing pictures of everyone she knew, she easily finished the assignment first. Thus, she had plenty of time to work on something else. She flipped her sketchbook over to a new page and started looking around the room for a subject to draw. Next to her, her best friend Kairi was adding flowers to the borders of her paper. Riku looked like he was attacking his paper as he scribbled with his silver crayon everywhere. And next to him, Sora was frowning at his blank sheet; he hadn't even started yet.
Smiling to herself, Naminé picked up her crayons again and began to draw; only this time, she wasn't drawing her own face.
About ten minutes later, their teacher announced, "Okay boys and girls, five minutes left, and then you can show everyone your hard work!" Then she began to walk around the room, looking at the progress of each self-portrait. Suddenly, she stopped behind Naminé. "Naminé?" she asked, "Uh…who is that?"
Naminé looked up and beamed. "That's Sora!" she said proudly, "And I'm almost done!"
"But…Naminé…sweetie, you were supposed to draw yourself!"
"Oh, I know that!" said Naminé cheerfully, "But I'm all done so I drew Sora too!"
"Oooooooooo!" cried Tidus, as he jumped out of his seat and snatched the drawing away, "Look guys! NAMINÉ LIKES SORA!"
"No, she doesn't!" yelled Kairi, "Stop it, Tidus!"
"Then how come she drew pink hearts all over it? Huh? Huh?"
Naminé blushed and tried to grab her picture back, but it was too late. The whole class (except for Sora, Riku, and Kairi) burst out laughing and started chanting, "Naminé likes Sora! Naminé likes Sora!"
Sora stood up and grabbed the picture from Tidus's hands. "Leave her alone!" he said, "I really like it, Naminé!"
She gave him a grateful smile, but before she could say anything, another girl jumped up and squealed, "Oooooo, Sora likes Naminé too!" That
really
got the class laughing, and Sora's face turned as red as Kairi's hair. He sat down and did not say another word in his or Naminé's defense.
"That's
enough!
" shouted their teacher, and the class began to quiet down. "Tidus, please go back to your seat."
Tidus obeyed, but as soon as the bell rang for recess, he went right back to teasing Sora as though he had never stopped. "So how much do you really like Naminé?" he demanded as they reached the playground.
"She's just my friend!" yelled Sora, "Go away, Tidus!"
"I'll bet he's KISSED her!" Tidus told the other boys.
"NO I HAVEN'T!" Sora shouted back furiously.
"Sora and Naminé sittin' in a tree! K-I-S-S-I-N-G!" they all chanted.
"Shut up! I'd NEVER kiss Naminé! That's disgusting!" cried Sora.
"First comes love, then comes marriage…"
"I do NOT love Naminé!"
"Then how come she gave you that lucky charm?" asked Riku. He couldn't help it; Sora might be his best friend, but this situation was too funny to ignore. "You know, the one that she had since she was a baby, but then she gave it to you?"
Sora was horrified. "You said you wouldn't tell anybody about that!" he yelled at Riku.
"HA!" said Tidus, "She does like you! And you like her! What's her lucky charm look like? Is it a heart?"
"NO!"
"I'll bet it's pink and glittery!" said Tidus's best friend, Wakka, "And he sleeps with it under his pillow!"
"How did y- I DO NOT!" shouted Sora, "And it's not pink and glittery, see?" He reached into his pocket and pulled out a yellow plastic star on a chain, the precious good-luck charm that Naminé had given to him on the night of the big meteor shower.
"You keep it in your pocket?" asked Tidus.
"Yep, and he carries it with him everywhere!" said Riku with a smirk. The boys started laughing so hard that some of them fell over and had trouble standing up again.
Sora couldn't take it anymore. "You're wrong!" he yelled, "I hate this stupid charm! And I DON'T. LIKE. NAMINÉ!" With that said, he flung the charm into the dirt and kicked it away. "So THERE!"
The boys stopped laughing pretty quickly after that, and they all stared at the star on the ground. "Good idea," said Tidus finally, "I'll bet it had cooties on it!"
"EW!" they all yelled, and they took turns throwing it at each other. Finally, the bell rang, and Wakka threw the charm as far away as he could. Sora hesitated as the kids started to line up, but most of his friends were calling him, and he wanted to maintain the act as long as he could, so he followed them inside.
Meanwhile, Riku did not follow them right away. He knew Sora better than any of their friends, and he also knew that by the time school was over, Sora was going to want that lucky charm back. So he picked it up gently, brushed off some of the dirt, and stuck it in his pocket. Tidus and the others wouldn't have to know about this; he'd wait until they were alone before he gave it back.
But unbeknownst to Riku, trouble was brewing nearby…
***​
At the start of recess, the girls had been just as relentless as Tidus, but they couldn't find Naminé, so they started badgering Kairi instead. "Kairi, does Naminé like Sora?" they all asked.
"We both do!" said Kairi, "We're his best friends, and so's Riku!"
"We mean does she like-
like
Sora!" insisted a girl named Arianna, the one who had yelled, "Sora likes Naminé!" in Art class.
But Kairi wasn't stupid; while she didn't know whether Naminé like-
liked
Sora or not, she knew exactly how the girls would treat her best friend if she answered 'yes.' So she shook her head and said, "No! Of course not! Don't be silly!"
"Then why'd she draw Sora's face in Art?"
"Because she really likes to draw!" replied Kairi, "She draws Sora all the time, and me, and Riku! And she can't like-like all three of us, right?"
"No," they all agreed sadly.
"Look!" cried Kairi's other good friend, Selphie, "Here comes Naminé right now! Why's she crying?"
Kairi jumped up from the swing that she had been sitting on. Sure enough, Naminé was running towards them, and there were tears pouring down her face. "Naminé!" squealed Kairi, "What's wrong? Why are you crying??" The little girl ran straight into her arms and started sobbing on her shoulder. "Nami! Nami!" cried Kairi frantically, "What happened?"
Naminé couldn't get the words out at first. Finally, she choked out, "S-S-Sora HATES me!"
"What?!? That's not true!"
"Yes it is!" Naminé wailed, "I j-j-just saw him throw my lucky charm on the g-ground! I gave it to h-h-him this one time, as a present, and he just told EVERYONE that it was stupid and he hated it! And he said he doesn't like me at all! And then he kicked it because Tidus said it had cooties on it b-b-because I touched it and I'm a girl!"
Well.
At soon as they heard that last little comment, every single girl, including the ones who had been planning to tease Naminé about her crush on Sora, gasped in horror and started thinking of all the nasty things that they wanted to do to those awful, mean boys! Kairi was downright furious. "How could he do something like that?" she cried, "Sora would never be that mean!"
"But he DID!" said Naminé, as she started bawling all over again, "Go and see! He did!"
Kairi ran off, and thirty seconds later, she was back, shouting, "She's right! She's right! They're all throwing it at each other and running away from it! Even Sora! I saw them!"
"What are we going to do?" asked Selphie, "I say we capture him and Tidus and paint their toenails!"
"Yeah!" yelled Arianna, "Or we can steal their toy swords and hide them in the girl's room!"
"Ohhhh, we're going to do MUCH more than that!" declared Kairi, "This is WAR!" The other girls cheered, except Naminé, who just sat on the ground and kept on crying. "Don't worry, Nami!" said Kairi, "We'll make him say he's sorry! We're gonna make them PAY!"
***​
Later that afternoon, as the two boys were walking home alone, Riku pulled out Naminé's good-luck charm and handed it to Sora. "Here," he said, "I cleaned it off for you. I thought you'd want it back."
"Thanks!" said Sora, placing it safely back in his pocket. Then he glared at Riku. "Why'd you tell everybody? You promised you'd keep it a secret!"
Riku scratched his head and stared at the ground awkwardly. "I'm sorry," he said, "I was only teasing!"
"Well, don't tell ANYONE that I got it back, okay?"
"I promise!"
Both friends smiled at each other, but when they looked up again to continue walking home, they saw a surprisingly unpleasant sight: Kairi and Naminé were glaring at them and blocking their way. "Hi!" said Sora, trying to sound cheerful, "What are you guys doing? Want to come play with us?"
"
No!
" said Kairi, "Tell him, Naminé!"
Naminé took a deep breath, stepped forward, and looked Sora right in the eyes. "I want my lucky charm back," she said angrily.
"
What?!
" gasped Sora, "But…but Naminé, you gave it to me! It was a special gift!"
"If it was so special, then why'd you throw it on the ground?!?" shouted Naminé, as she struggled not to cry again.
Sora and Riku looked horrified. "You…you saw that?" asked Sora softly, "Naminé, I'm really sorry! I didn't mean to say all that stuff…"
"You're a big fat liar!" yelled Kairi, "And you made her cry!"
"I wasn't trying to make her cry!" Sora protested, "I'd never want to make Naminé cry!"
"Well, you did!" shouted Kairi, "So
give it back!
"
"No way!" said Sora, "It's mine! She gave it to me!"
"GIVE. IT. BACK!"
"NO!"
"It wasn't his fault!" said Riku, "They were all laughing at him! He didn't mean it! See, we cleaned it up after it fell in the dirt!"
"It didn't fall into the dirt!" yelled Kairi, "You threw it into the dirt, you jerk-faces!"
But Naminé had had enough of this. "You broke your promise!" she shouted at Sora, "You couldn't protect me from any of those shooting stars! You can't even protect me from Tidus!"
"Yeah!" Kairi chimed in, "So we're gonna take it back whether you like it or not!"
"You can't have it! It's mine!" shouted Sora.
"We'll just see about THAT!" Kairi warned them. Then both girls turned away and ran back down the street.
"Uh-oh," said Sora quietly, "I really messed things up, didn't I?"
"Don't worry, Sora!" declared Riku, "
I've got a plan!
"
To be continued...
As always, feedback is most appreciated!
Last edited: