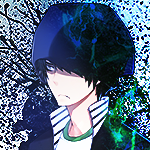 Joined

Jul 21, 2008
Messages

7,140
Awards

4
Age

30
Akuma
The setting is a planet known as Gyrus. Its size is roughly that of Earth, though about a quarter larger. It orbits its sun Vigis once every 540 Earth days, resulting in long lasting seasons ranging from luke warm to just slightly chilly.
Moving in closer to the planet one can see that most of it is covered in land, 67% to be precise. There's something odd about the land however, something that can only be seen on a globe of the planet or from high above in space. The land forms a near perfect circle, with the ocean forming four intersecting bodies of water that create the visage of a blue cross between the lands. Going into detail over the land, which is divided by the ocean into four parts, there is only one part that intelligent life can be found, located in the north east. For reasons unknown the three other pieces of land are barren. They share the same climate as the livable land, and yet they are lifeless. The livable land is known as Rima, and its terrain varies.
The far south and west are mountainous, with towering peaks acting as a natural border between the large rivers separating Rima from the desolate lands. Fresh waters flow from these mountains, creating lush forests and streams inland. The trees are large enough that natives tend to carve into them to create homes. Further to the north and east the ground is nearly flat, with grassy plains as far as the eye can see. It is upon these plains that many cities were built, the most notable being the capital Elm. Elm is an ancient city made of stone, there are intricate designs carved into them that clash with the cultures of the races that settled in, giving the impression that the city was built by a lost race.
The world of Gyrus was once whole, the four separate lands once one. That was long ago however, in a time where the land was resided by the Ancients. Not much is known about the Ancients, the only thing left of them is their great city Elm, and the stigma of the grave mistake they made by angering the Saviors, the one's responsible for the creation of the world. It is said that they were a powerful race who extended their reach across the world. They were ambitious, perhaps too ambitious, because they soon set their sights to the realm of the Saviors. They attempted to wage war with the Saviors, using dark magick to create monstrosities to act as their weapons. There are still remnants of these monsters, things such as the walking dead, ghostly apparitions and other nightmarish creatures. Seeing as how the Ancients are no longer upon Gyrus, and the Saviors are, it's easy to guess what happened. The Saviors punished the Ancients, not with death, but by erasing everything they were. The Saviors say that the three races that exist today are a result of the Ancients' being divided and forcibly changed for their own well-being.
In current times things are relatively peaceful. The Joint Military Army has yet to even be made, as most conflicts are of little concern and better handled by local policing. The only strife at the moment is the growing issue of dark magic. Those trying to claim the same power as the ancients tampering with forces beyond their understanding. Malignant spirits, the walking dead, nightmarish monsters, and more horrors as time goes on. It's only thanks to privately run organizations that their threat has not run out of control. Demon hunters, paranormal investigators, there are many that have offered their assistance. Regardless a permanent solution is needed. The yearly visit of the Saviors is arriving, and the Council is looking seek their guidance in this matter.
There are three intelligent races that inhabit Rima, they are diverse in appearance and physical ability, their culture may differ but they share many of the same beliefs and morals.
Humes
A race very much the same as humans, at least in appearance. They do not have varying skin tones as their living environment has stayed the same, instead it being a light tan color. Hair and eye color can still be diverse. Compared to the other two races, Humes are not exceptional in any one way. While all races are strong, Humes are the 'jack of all trades' race, usually taking on any challenge that comes their way. They tend to be very driven, and live their lives "To the fullest no matter what." They were the first to discover Elm, and are known for their great advances in technology. They are responsible for the revitalization of the lost stone city, and set up their own form of government which would later face a few struggles as the other two races came into the picture. There could have been conflict, however the Magikama hardly cared for imposing their influence with force, and the Komatta seemed to care even less about violence or politics all together.
Magikama
They tend to be very slim, with a controlled metabolism that keeps their bodies slender. They have hair that grows VERY fast, but always stops down to their waist. The hair is interesting, since it's actually slightly transparent, and glows with a faint colored light depending on their mood. Those with strong personalities tend to have a dependent color for their hair, stubborn or typical aggressive ones will have red hair most of the time, while calm natured individuals may have blue hair. They have dark peach colored skin, which may become darker with prolonged exposure to the sun. There are black lines that run across their bodies, no more than half an inch in width and that stop at the ends of their limbs. These lines differ from one Magikama to the other, just as much as a fingerprint. The lines may spiral around parts of their body, or they may simply move along in a linear fashion along their body. Their eyes always glow with a mysterious pale light, and tend to brighten when they use magicks. Their pupils are near impossible to see due to the glowing; however they always appear to be in a starburst shape. Magikama tend to adopt a calm and restrained attitude towards their lives, though of course this is only a stereotype, due to their almost regal appearance and their natural affinity for magicks.
Young ones must be taken care of with more caution than you'd expect, as they almost always have no control over their magicks, and have been known to cause destructive accidents. The Magikama were the first to begin to unlock the secrets behind magick, its origin and just where it comes from is unknown at the moment; however they've learned that traces of it can be found in just about any living being. It varies from person to person however; some have high potential with magick, while others may struggle. Some believe that one's own inner willpower has much to do with their potential.
Komatta
The Komatta are a race that hails from the forest regions. They have a subtle feline appearance, though are much more recognizable as humanoid. They have thick hair that grows on the top of their heads, which colors vary from black, brown, red, and gold. The ends of their hair tend to be highlighted with a brighter color, ranging from a bright red, blue, orange, and white. Their ears are placed higher on their heads, with short matching hair that matches their hair color, or in rare cases their hair's highlights. They're wide and fairly simple, much like a cat's. Komatta have elongated canines, which just slightly may protrude from their mouths at times. Their eye color can vary, however the pupils are vertical and become thinner as they constrict. Komatta have fur covered tails which tend to be about three feet long on an adult. Due to the harsh environment they lived in Komatta are very robust. Their Immune system can fight off most infections, and they are highly resistant to poisons and diseases. While not much physically stronger than the average Hume, Komatta's are very agile and are adapt in acrobatics.
The Komatta's background shows that in the deep forests they came from they had a tribal culture. Large families and associates lived by their own rules, with a social system that relied heavily on trust and respect. There were never any leaders' per-say; instead decisions were made among groups, with everyone having equal say. This simplistic history had an effect on most of them, giving them a most 'nonchalant' attitude towards politics in Elm. As a result they cared not for much power, and simply wanted to be on equal standing with the Humes and Magikama.
Rules: KHI's basics, I assume you all know them. No power playing without someone's consent, no god modding, ect, ect~
Template-
Name:
Age:
Gender:
Race:
Appearance:
Personality:
Occupation: (if any)
Weapons: (Those with a license are free to carry lethal weapons. Personal shielding and magicks have made conventional firearms almost obsolete, and it's rare to see someone using them as their main weapon of choice. Feel free to think up something fantastic, this is a science fiction AND a fantasy RP after all.)
Magicks: (Be careful with this, your character utilizing magicks means that they have a dedication to it, lots of training and meditation is needed to cast magicks. Now as for what is possible, anything you can think of really, from small fireballs to communicating with the dead. I just don't want to see anyone casting meteor or something just OUT THERE alright?)
Bio:
Characters
Mithos Dewend
Superbia
Villeina Fabriane
icmasticc
Mieana Favallu
AxelYoYo
Zagi and Lilim L. Lithos
Piercing Light
Noelle Sylvia
Raspberyl
Faust Kalakai
Xeon{Myroku}
Raizo Tamotsu
Nigga Sauce
Mayuka Ashford
ThePromise​
Last edited: