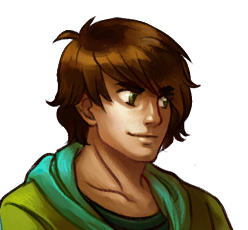 Joined

Feb 23, 2009
Messages

2,694
Age

27
Location
Website
Let's give this another shot. I don't feel as though I wrote enough interesting things in this first part so I plan on writing more right away to try and get into more juicy bits and pieces. I've always sucked at beginnings and I think next time I 'start' something, it should be in a less traditional method in order to spice it up a bit. I'm also trying to de-rust so hopefully writing this helps! This story is going to be a coming of age slice of life type of story, so if you're interested in that kind of stuff, here you go.


---
Again
​


As the consistent railroad tracks rolled under the train's cabin, a young man let out a long, monstrous yawn. He was tired. Not that it was any surprise to him. Looking out the window, Casper saw the red skyline whisk past. Was it already evening? He wondered if had managed to get some sleep for a change during the ride. Casper sat up from his slouched position and saw the upcoming stop on the train's LED display through blurry eyes. Station 219 was next; Ellin was station 221. He was almost to his new how. He rolled his neck which cracked audibly throughout the empty cabin before doing the same with his shoulders in an attempt to energize himself. It sometimes worked, but this wasn't one of those times. Instead, Casper rested his head against the cool glass window and watched the world zip by. He closed his eyes and in an instant, blurred trees raced passed him in a fiery forest. Uncertainty and doubt formed a ball in the bit of his stomach and he stood, shocked, as the world roared through him, leaving Casper behind entirely. He wanted to make a move, to make everything stop and wait for him. Casper reached to to a tree, but it slipped right passed his fingers, leaving only a burning sensation in its wake. He inhaled deeply. If nothing was going to wait for him, there was only one option left to him. A soundless footstep clamped down on the earth. The world kept moving, but this was all he was able to accomplish for now. Casper blinked and the forest disappeared, and in its place was the train interior.
"Dreaming," he mumbled to himself. Casper rubbed his open fingertips against his heavy eyelids as another yawn escaped him. "I must spend around half my time yawning." Checking the LED display once again revealed the next stop was his own. Like a newly born fawn, Casper's legs trembled as he stood and he almost instantly fell forward. He had just managed to catch himself on the metallic pole, and growled at himself in annoyance. If it wasn't for the pole, he would have face planted and lost some teeth. Casper slapped himself across the face. This was ridiculous, but it wasn't new. Instead of dwelling on it, he forced himself to stand on his own two feet. A dull green duffel bag was visible under Casper's chair and he idly pulled it out into the open with his foot before reaching down to pick it up, almost toppling himself as he did so. Realizing he'd have to leave soon, Casper forced himself towards the doors by latching on to the safety poles, afraid of falling asleep on his feet. That fear was almost realized as he waited for the train to reach the station. What if he had stood up too early and the train still had plenty of travel time left? At least it would be difficult for him to actually fall asleep standing up, though he had done it before. Twice, in fact. The first time time it happened he fell over and managed to sleep through his crash landing while the second time saw him somehow keeping his balance and sleep with his feet firmly on the ground. Those little thoughts managed to keep him conscious with a stupid grin on his face. It was almost a blessing that the train was completely empty, otherwise someone might have noticed it and asked.

The train finally slowed itself to a halt. The large glass door in front of Caper showed a thin, brightly lit walkway besides another empty lower set of train tracks. The concrete slabs shone against the white ceiling lights placed high above on the thin canopies. It caused an odd sensation flood through him. Was he homesick already? Or was it just loneliness from being in a new world by himself? Casper slung the duffel bag over his shoulder and found that he had nothing to do with his hands. They were completely empty, and felt useless. The door slid open and he gripped the sling of the bag with both hands, resting them against his chest. loneliness, he decided. That was normal though, wasn't it? Being thrust into the world on one's own wasn't easy. Then again, he had done this to himself and had no right to complain. Casper wiped away the sleep from his face and took the first step forward. The brisk autumn air slapped him across the face bitterly, and he pulled his hood up against the chilly night. Each step he took echoed loudly through the empty train station, and they each one pounded painfully against his numb body. His weariness was catching up to him, forcing every vibration to magnify itself across his body. Despite this pain, he made his way into the station's warm interior.
"Oh, there was someone on board after all," he heard a female say as he entered through the automatic sliding doors. The terminal he had found himself in was small, with a few cushioned waiting chairs and a plain service counter. A woman wearing a navy vest over a white dress shirt stood behind it. Her long, slightly wavy brown hair reached towards her stomach, and her round face looked friendly enough. "Are you Casper?" The woman asked.
"Oh! Yes! Yeah, I'm Casper." A bit more energized at the sight of another human being, Casper scrambled his way to the counter. The name tag on the woman's chest was turned just enough against her shirt that he couldn't read it.
"You're moving in to Ellen, correct? Your landlord was just here about half an hour ago. She said she wanted to make sure you got your key." The woman reached under the counter before holding her hand out to Casper. He placed an open palm under her hand, and she dropped a single bronze colored key.
"My landlord was here?"
"Yeah. She wanted to see you herself, but said she had urgent business somewhere tonight." Casper yawned into the back of his hand as the woman went on. "Oh! Sorry, you must be tired from your trip!"
"No, no," Casper's yawned continued, "I'm fine. Nothing to worry about."
"Either way, I shouldn't keep you. Do you know your way to your apartment?" Casper reached into his pocket and pulled out his phone. He had already set the map to give him directions from the station to his new home.
"Yeah. I made sure to get everything ready before I got on the train. The movers should have already put my furniture and boxes inside." It was a terrifying thought, having to rely on people he never met before to handle his all-important computer and other electronics. They were, after all, his source of income. Still, there was no way he would have been able to move them all himself and the drive would have been too taxing for him.
"That's wonderful!" She went on as she clasped her hands together. Her bracelet caught Casper's attention as she did so. Though largely plain and silver in color, she had attached a small blue plastic cartoon cat to it. It was originally intended as a cellphone strap, but Casper recognized it with a smile.
"What's that?" He feigned ignorance, pointing at her bracelet.
"Huh? Oh, it's just this...uh...it's from a web comic called 'Deluxe!'. It's super cute, have you heard of it?" Casper's tired smile grew wider. Any other time he would have told her the truth, but at that moment he just wanted to crawl into a bed.
"Yeah, I think I have. I'll be going now, though. Thank you for the key."
"You're welcome! And thank you for choosing us as your means of transportation!"

The train station was located on the top of a hill, over viewing the town of Ellin. The stars above caught Casper's attention as the city skyline below glimmered with colorful lights. The static stars sat silently against the now black sky while the city lights blinked off and on. The moving car headlights and changing streetlights was a sharp contrast to the calming heavens, and the dirt road he walked through saw him with a heavy heart. He should have gotten a roommate. Someone he could talk to and confide in. Though given his condition, it would be hard to live with another human being. Being awake in pained exhaustion while someone else sleeps peacefully would only make things worse for Casper. As if to cement this idea, Casper let out another sharp yawn as he walked downhill. It wouldn't help, but he wanted a cup of coffee. He checked his phone, which shone brilliantly throughout the darkness, and found a small coffee shop just on the edge of town. His phone estimated the walk would take about ten minutes to get to the coffee shop, and another twenty to make it to his apartment from there. Casper steeled himself for the chilly walk ahead before continuing down the path. About seven minutes later, he paused. A strange noise caught him off guard. It wasn't one he recognized, but it seemed mechanical in nature. It was a whirling sort of noise coming from the line of trees to his right. Through weary eyes, Casper squinted into the darkness. He couldn't see anything, but the noise grew louder. It almost sounded like a small helicopter flying, but that seemed impossible. Still, the unknown sound made him nervous and he wanted to leave as soon as possible. No sooner had he taken a step than something flew out from within the tree line and slammed into the dirt in front of him. Casper let out a high pitched screech he wasn't aware he was capable of making as he fell backwards, crawling away from the downed object as it fiercely circled itself against the ground like a hound chasing it's tail. With shaky hands, Casper turned on his phone's flashlight and pointed it at the object. Two bilateral propellers stuck upwards from a dark base. One of the propellers spun quickly in place, but the other seemed be motionless. Still a little stricken, Casper was hesitant to move. A drone. It was just a remote control drone. Calm down, he told himself. That was easier said than done, however, as the drone continued to spin violently on the dirt like a helicopter in an action movie. It reminded him of a bird that had damaged its wing, while at the same time terrifying him. Maybe it was like a peckish ostrich with a broken leg. Wait, ostriches don't fly. The drone suddenly halted its movements, as if realizing how futile its actions were.
"Hello?" Casper called out into the night, his voice cracking. How far was the range on these things? It seemed pretty big, about the size of a watermelon. Did size correlate with wireless connection? If so, the owner might be very far away. He looked the drone over. Aside from the dust and dirt after doing donuts on the ground, it seemed fine. The right propeller was completely in tact as well. It wasn't until Casper looked at the left propeller did he realize the issue. The fan had been completely tangled with leaves and some kind of vine, forcing the propeller to a standstill. "Uh, hey!" Casper called once again, "If you can hear me, don't turn this thing back on yet!" As if he was sticking his hand into a beehive, Casper carefully reached towards the propeller with his non-dominant hand. "I better not lose any fingers to this thing," he mumbled as he undid the various foliage. It took about a minute, but Casper found the job easier than he expected and he clapped his hands clean as he stepped away. "Okay! You're good now!" He cried out, his voice much more even than before. For a few seconds, nothing happened. At first, he thought maybe the owner was too far away and didn't realize what had just happened, but then the propellers sprung back to life and the drone lifted itself easily off the ground. Casper could feel the wind it generated as it rose, but it stopped around eye level. Peering at the drone with the flashlight, he noticed a small square box strapped on the bottom with Velcro. A small circular lens stared back at him, next to it was a small red light. He rose his hand towards the drone and waved with a small—but still tired—smile. The drone began to ascend once more before flying towards the brightly lit town. It was out of sight in a matter of minutes, but Casper followed along, making his own way home.

It didn't take long after that to reach town. As he placed his feet on concrete sidewalk, he noticed a small sign with an arrow that pointed back to the train station. There was an alternative route with a road on it, much to his dismay. An easier path was just around the bend if he had simply paid attention. At the very least he could say he helped someone out with the whole drone incident. He shook his exhausted head at the thought and followed the sidewalk's empty street towards the cafe. It was called "Lil' Honey's," and was a mix of a coffee shop and bookstore, one half of the store served as a coffee shop with stools and tables, while the other half housed many different books and magazines. As he entered, a small bell announced his presence.
"Hey there," a man said as he entered. He had a full beard with shoulder length hair. His husky build put Casper off at first, but it was obvious from the man's voice he was friendly. He wore a green visor and matching apron, though Casper could see his black shirt actually had a rock band's logo on it, one he didn't recognize. "You need a minute or are you set to order?"
"I, uh, would like to wash my hands first, actually," Casper told him as he showed off his left hand, covered in dirt and mud from fixing the drone.
"Sure thing. Bathroom's to your right." Casper nodded and noticed something. The man's apron had various band buttons attached to it, but one of them stood out among them. It was a cartoon dog with the word "Deluxe!" written in the background. Casper smiled once more. Maybe it's popular in this town? After finishing up in the restroom, Casper placed an order for a simple black coffee. He'd need every ounce of caffeine he could get his hands on tonight. After paying, he stepped to the side of the counter and put his duffel bag on the ground. He wasn't going to need his wallet tonight after this, so he decided to put it inside his bag. Casper bent down and unzipped the bag before dropping the wallet inside and zipped it closed. Just as he was about to stand upright, a stack of books waddled towards him. Or at least, that was what he saw. In reality, it was a woman carrying the softcover books right to him.
"Ah, wai--excuse me--" was all Casper could say before they collided together, forcing them both on their backs as the books scattered throughout the floor.
"Oh crap!" The woman cried in terror.
"Sorry, I didn't see you coming towards me."
"Crapcrapcrapcrap," The woman went on. She quickly stood and did her best to gather the thick books off the ground. She was shorter than Casper, about a full head difference or so. She had dyed her hair a light red color, and wore dark yellow prescription rimmed glasses against her brown face.
"Hang on, lemme help y--"
"No!" The woman cried, "No, I mean, I couldn't ask you to, it-it-it was my fault after all!"
"I don't mind," Casper answered as he picked up a book that had fallen open, spine up. He lifted it up and peered inside with curiosity.
"NO! No, don't look!" Casper wish he hadn't. A large two-page black and white spread greeted him of two hand-drawn men in a hot spring. One of them confidently reached into the water towards the other, who seemingly cried out.
"What--" The woman grabbed the magazine away from Casper, her flushed face in tears. "I...sorry, I didn't--"
"It doesn't matter," she sobbed as she picked up the last magazine before running out of the store, leaving Casper stunned in silence. The employee hung his body over the counter, staring at Casper.
"Did she have those nudity men mags again?"
"You guys sell that kind of stuff here?!"
"Not really. She special orders them though. I think I always see her coming and going at night to pick them up. She's kinda weird. Anyway, your coffee's all set, dude!" Casper only blinked in response.

Last edited: