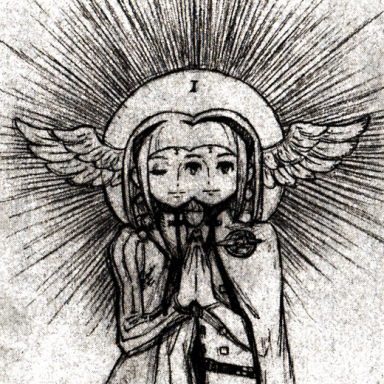 Joined

Sep 22, 2007
Messages

5,662
Awards

8
Age

26
I'm
very
hesitant to post a template, given how spotty my activity has been with just two active roleplays. My wish to support the section's "main RP" got the better of me, though, so I whipped this up.
It will probably be revised several times before Arcana even launches, provided I have a spare moment to do so.
---------------
"Faith, trust, and pixie dust!"
Name:
Rhona the Wayfarer
Age:
22, she claims.
Gender:
Female...
Appearance:
"Willowy" is a word often used to describe tall, slender women—and while Rhona is both of those things, one could go so far as to call her "willow-like." Without slouching, she reaches a little over five feet and nine inches. From her neck to her fingers, from legs down to toes, her body is long and lithe. Muscle adds little bulk to her frame, but she moves with such graceful ease that no one can doubt her physical strength.
Rhona's hair—an unruly mess of reddish-brown, if left untended—is usually gathered in a fishtail braid that nearly reaches her waist. Try as she might, it never stays perfectly braided; by the end of a day, several pieces are left sticking out messily. But with her smiling green eyes, pretty smiling mouth, and high, smooth cheekbones—which complement her smile so well—it looks endearing rather than sloppy. If Rhona weren't so busy with her business and travels, one might think it was all intentional.
Her clothing is a wearable scrapbook for her travels, barely recognizable as the standard white robe it once was. After less than a year of tramping through less-than-clean environments, Rhona first altered the robe by hemming its skirt and splitting it down the middle, leaving room for her legs to move unimpeded. This had the unfortunate effect of removing the red triangle border by which white mages can be identified, though it still remains on her hood and cuffs. Rhona continued to maximize her outfit's utility by sewing pockets wherever she could: inside her sleeves, along her waist, down by her legs, under her hood, hidden near her bust. Most are discreet enough to maintain the shape of the robe, unless they happen to be stuffed full of
plundered
well-earned treasure.
To avoid carrying a heavy bag, Rhona keeps the rest of her cargo on her belt. Oh, what a belt it is!
A thick, tightly braided rope—dyed a deep red, to match the ornaments of a white mage's robe—her belt supports more than a dozen hanging objects. Among them are Rhona's geomancer's bell, her feather charm, a coin purse, a pouch of healing herbs, several glass vials bound together, an absurdly tiny book, and the shrunken paw of some animal. Rhona is always adding new items to her belt, giving or selling the old ones to those who fancy them.
Personality:
Calmness in the face of utter disaster. Energy, tempered by control. A forward attitude, held aloft by social grace. The universal capacity to empathize, and share a smile with someone. All of these qualities are desirable in a professional healer, who must not only treat the unwell, but live amidst their families and communities. Incidentally, they are also very useful to a merchant—and Rhona has learned to apply her talents broadly.
For every acquaintance, she keeps three things always in reserve: a kind word, a proverb, and a piece from her collection. Even as she treats the sick and injured, she keeps an ear tuned to the surrounding conversation, listening for a hint to someone's personal taste. Some may call it intrusive and opportunistic; Rhona sees it only as a considerate gesture. A thoughtful gift—or the opportunity to purchase such a gift for another—never fails to bring a spot of joy into someone's life. And that's all Rhona wishes to do, really.
In return, she expects only a smile. And information. And maybe a favor or two.
A traveler's very life depends on the information at her disposal, especially when her travels span multiple worlds. Though she always manages to find an innocent pretext for asking, Rhona is always keen for information on places and persons. Good information leads to good travels, good travels lead to people in need, needy people lead to good business, and so the cycle continues. Until she finds the one precious item she seeks, Rhona will continue in this way.
Bio:
Rhona the Wayfarer is gradually becoming a fixture in several communities, on several different worlds. She helps the needy, collects and sells interesting goods, and makes friends wherever she goes. What else is there to know?
If anyone were to ask her about a mage named Tarn—who murdered his master and stole his most valuable possessions—she would claim total ignorance.
Music:
Character Theme - "Healer"
|
"Liar"
|
"Murderer"
Last edited: