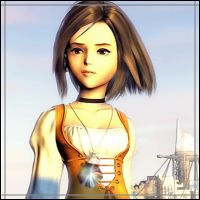 Joined

Nov 11, 2014
Messages

1,688
Awards

35
Age

49
Location
Website
This has been stirring around in my head since I saw that the English crew had accidently over-localized and added stuff that the JP didn't say in the KHUX announcements, as well as other flubs I've been seeing. (Guilt VS. Attack bonus, the lifeboat thing) Now I've said a thousand times, JP to English translation is more art than science (and I think Goldpanner would agree with me.).
Unfortunately, it's easy to get it wrong. Here's what I like in a good JP to ENG translation:
1. It has to make sense. I don't like machine translations, ick ack oak. Give me a real human doing it. And Engrish, get thee out of here. It has to sound natural.
2. Jokes and puns and such need to be localized in such a way that it makes sense. Sometimes you get ones that don't translate well (I read about one in Digimon Cyber Squad that was translated as "you will slip on sticks" when it was really a pun between chopsticks and a bridge, so I can understand why they changed it.). This means that no literal when literal doesn't work.
3. The meaning of what the writer meant HAS to be preserved, even if it must be localized, say to save a joke or something. This means with professional translators, they really need to work with who wrote it, or at least consult with 'em.
4. If there's no equivalent over here and it can be gotten away with (aka, it's not obvious that it's not what they say it is), I don't mind if things like food get localized to a certain extent. One fan translator for Maho Girls Pretty Cure localized a
local citrus
(basically a variety of mandarin orange that the JP love) as a clementine. Now I get that. I really get that. Most mandarin oranges, unless they're locally grown, are canned or they are very small over here. (aka. the canned ones that might be imported tend not to be very good.) But in the case of calling rice balls donuts..NO, just no.
As for Square games, the best shining example that I wish the KH folks would imitate is FFXIV, and if anyone here's played that, you'd know why. That just.. FLOWS. Good dubbing for the most part, and the English script works and works well. Heck, the translators even use humor in it which makes me laugh, a lot.
Now I understand translators are human and make mistakes, but, guys? What do you really want to see in your English (or native language) anime/manga/games that were translated from Japanese? What do you consider bad/awful, and what rocks?