Joined

Dec 5, 2014
Messages

10
Hello there fellow Kingdom Hearts fans.
I have made a prologue
over here
, but I had to make a more detailed post. I think today the timing is more than perfect, after 2.5 months XD. It might be a long read, and there might be mistakes over here and there, since English is not my native language, so sorry in advance for that.
Alright, now let's go. Even though I have known the community since 2006, I just recently joined. Everything started while I was looking for the
Japan's KH 2.5 collector's edition
. Like many of you, I couldn't accept the plain edition, especially after 1.5 edition which contained a very nice artbook, so I was searching everywhere for that collector's. Even though I couldn't read the dialogs, the content was worth it. Or so I thought until I saw the crazy prices, because I didn't pre-order it in time.
Anyway, after a long search, I decided the best alternative would be the
English version of the Japanese starter pack
. But the same day with that pre-order, a collector's edition for the west finally got announced. I decided to buy this edition as well, but as most of you know, it was announced just a few days before the release, on very few pieces. Living in Greece, I couldn't order it from the official stores, but after staying in front of my computer screen almost all day for 2-3 days, I managed to grab one of the very few prints
from amazon.co.uk
.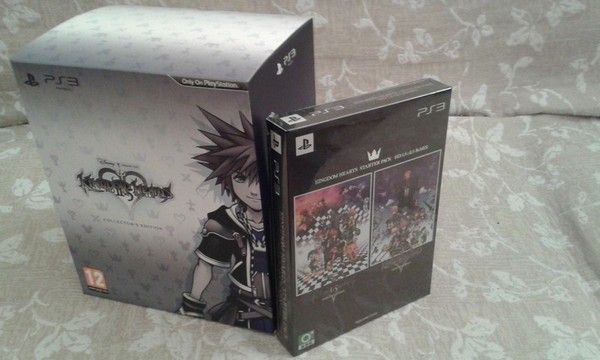 The fruits of constant searching. Notice the PAL edition of the English release.
​
Now, you might wonder, what have all these to do with the thread's title ? After all, most of you might have had similar experiences. Well, during this marathon of seeking everything KH related stuff, I noticed the
launch showcase thread
on squenix blog. You could ask the developers anything, and depending on the question, you might have had the opportunity to be invited to the exclusive "
Inside the Kingdom, with Heart
" private showcase at Walt Disney Studio Lot, California! Out of all the contestants, there would be only 25 persons entering the event.
I live in a small country on the exact opposite side of the planet, so I didn't pay much attention to it, and proceeded with my question. I wanted to learn the perspective of the developers on some things, even if there was only a tiny chance for them to answer it. I did a mini analysis of the Disney brand among the world regions (different media and Disney characters are popular on different parts of the world) and I asked if Disney interfered with the developers, telling them what characters and worlds to use, since Kingdom Hearts is popular is all over the world. Let's not forget that something similar happened with Sora, wearing Mickey's outfit (yellow shoes, red shorts, white gloves) as a homage, since Mickey would not be the main character of the game.
The bane of my existence!
​
You can imagine my surprise a few days later, when I was deleting the daily spam e-mails from my inbox and came across the title "
CONGRATULATIONS KINGDOM HEARTS FAN!!! You're invited to KINGDOM HEARTS HD 2.5 ReMIX - WINNERS
". I thought of deleting it, but even as spam, a Kingdom Hearts e-mail would not be so bad to read. So, I opened it and I instantly remembered the event on Walt Disney's studios.
Oh boy, oh boy, it hit me like a
thunder strike
. Have you seen a person after a great shock with his mouth wide open ? Well, I was that person. Now, what could I possibly do ? What would my decision be ? Let's see the facts here. As you might have heard, especially the last few days, Greece is on an economical crisis for the last ~5 years. I am fortunate enough to work, and I have the luxury to work at my own kind of schedule, but taking days off the country would still be a financial problem for me, without even counting the expenses for such a huge trip. On the other hand, I am a hardcore Disney fan, and this would be a lifetime chance for me. A limited event for one of my favorite video games, on the "holy place where everything started", the Walt Disney offices.
Ok, let's take it calm. Relax Phantom, relax. We will make it, just relax. Now, let's see where California is located. Obviously it is on USA, but let's see how far exactly it is.
Yikes!
​
That place is on the exact freaking opposite side of the earth.
On the god damn opposite site of the planet!
Ok Phantom, you really need to relax. You should have still plenty of days ahead of you... right ? Well, let's check the calendar. The event takes place on 1st December and today is... today is... let's see.. today is... November 25.
So, I still have 5 days
. Five full days. Five whole days to check my passport, get a visa, find an appropriate air schedule, buy an airplane ticket, check the hotels, make exchange, find the way to the Disney offices, check the rest of the city for possible sightseeing, make a schedule, find US electrical plugs for the laptop, check the local means of transport, check their time schedules, and many many more things. Not to mention a very small detail, set at least a week back all of my appointments, even if it means that I have to permanently lose some of them. Okay Phantom, now you are free to PANIC !
Me, trying to cope with life
​
Ok, I never said that it would be easy, but I never imagined it would be so difficult either. The next two days were kind of a nightmare. I couldn't work correctly, I couldn't eat, I couldn't sleep , I couldn't do anything due to my indecision. On one hand I was thinking of all the practical difficulties but on the other hand, I was thinking that I had in my hands a once-in-a-lifetime chance that meant very much to me. The third day, I knew I had to make a decision. I had to either go or not go, deal with it and never think about it again. The problem is, I could never deal with letting a chance like this away. So, it was decided. I was going to California.
I canceled everything
for the next week, and proceeded with the preparations. For those three days I almost forgot what "sleep" meant. It's one of those moments where you work so much without realizing what exactly you are doing, and looking back you understand that you were nothing more that a completely crazy person. I could talk all day about the preparations, and the unexpected events that prevented me from taking this trip, not only beforehand, but during it as well, but I think it's time to conclude this prologue and proceed to the second part of the story.
Notice the "Oh God, finally" look on my face
​
The main reason for going to the opposite hemisphere was the KH event, but you can understand that once getting over there, I should spend some more days around the city. It's not like you get there every day, so I knew I had to spend every little time possible, to see as much as I could during the short time of my period. My friends / family were advising me to go for shopping, go to the beach, take walking tours, watch some concert and thinks like that. I, on the other hand, was not interested in any of these. I could only stay for 4 full days, so I decided: Go to the
Universal studios theme park
, take the
Warner Brothers tour
, go to the Disney offices for the
Kingdom Hearts event
, spend a whole day on the original
Disney theme park
(the first and only which was created with the inspection of Walt himself) and take one full day, so I can check the town for
comics / anime / video games / book stores
. Yup, that's the best way to do it.
My little souvenir. The only thing I bought, a Disney Studios key chain
​
I could write huuuuge posts about my experiences on those places, but as the thread title suggests, I think it's for the best to tell everything I can about the KH event. Well, what could I possibly say about it ? I had the option to choose on what group I would be, so I chose the second one. Not only due to possible delays of my flight, but also because I wanted to chat with the stuff of the event, and on the second group that would be more possible. I remember searching for the Disney lot, and suddenly realizing that the current block had cages with the mouse symbol on top of them, so I should be near. After a little bit of searching, I went through the main entrance. I still remember the surprise of the employee when I showed him my Greek passport AND the printed invitation. I had arrived about 1.5 hour earlier, but to my surprise, the place was already full with guests. I could tell that everyone was more than excited about what was going to happen.
We were waiting ~40 minutes for that greenscreen
​
The Square Enix stuff was very pleasant people, but what made me happy the most, was the interaction with fellow fans. After many sleepless, stressful days, I was on my final destination. I could talk with people, take photos, chat about the game, and be excited about what was going to happen. Even though you can tell that my accent is vastly different from the American one, everyone was kind and funny and pleasant in general and we could talk without any problem.
If there is one thing I regret, is not talking more with everyone
. I had taken that lonely trip for many days, so when I arrived, I couldn't relax, and due to the barrier of the language, I couldn't tell everything that was coming to my mind, so I stayed silent for more than I wanted. But even so, I got to meet and know many people, and I think that interaction was the best part of it.

My very own bag, containing a lithograph and a scroll
​
Now, on the presentation. First of all, I want to thank everyone from the first group. Those guys were all excited and were not leaving after the presentation, meaning that they wanted to chat with each other, so something amazing would happen over there, but none of them spoiled anything. They didn't give away a single clue of what was going to happen on that building, and I thank them for that. The magical moments that followed, can be described
by that excellent post
. From my own point of view, I want to share that when Yoko Shimomura, when Tetsuya Nomura, and when the Kingdom Hearts III trailer appeared on the scene, I was on an extreme state of excitement. I was shouting "F**k Yeah", "Let's go" and other inspired quotes at Greek, gathering the eyes of some persons around me. It couldn't be helped XD.
These trailers about Kingdom Hearts, friendship and connecting people, made me feel not lonely at all. I was among strangers, but friends, that we had a common on that game series. The overall audience was amazing as well. Everyone on the room could feel the energy. The presenters were amazing, the audience was amazing, and the guests were more than amazing. The whole atmosphere was amazing, and this can't be described by words.
My KH manga collection. Yen Press, Tokyopop, and some Greek editions. Notice the scroll down there.
I was too lazy to remove the rest of the manga and put the KH games on the right part of the shelf
​
After the end of the presentation, I talked to the first stuff person I could see, that being
Kaori Takasue
(I hope I didn't kill her name XD). I told them about my trip, and that I was coming from another country to meet them. I told them some things from my journey, and I could tell they were amazed. Thanks to them, I was able to see and meet in person some of the key-persons of the game, and this means a lot to me. So, a big thanks to Kaori, and the rest of the stuff.
After the presentation, among other fans, I remember talking with
Drew Hayashida
as well. I have seen many presentations, but Drew was more than well informed and amazing on what he did. I can't think of a better representative of the company. His performance that night was top notch. You could tell that it wasn't a plain presenter but also an exciting person for what was going to be revealed next. We had a small conversation and you could tell that he was surprised as well when I told him my story. What a nice guy... what a nice stuff... what nice fans! It was a great experience.
My Odyssey went on for a few more days, but the main goal was achieved. A stressful week of sleepless nights, came finally to an end, with the better possible outcome. There would be a lot of problems since the returning to my country, but this chapter was now over. Ladies and gentlemen, this is it.
I attained the Kingdom Hearts 2.5 event
which was a personal bet of mine. Now, after 2.5 months, I have put everything in my life in order again, and looking back at that crazy trip, I can now judge it objectively, without being excited about it. So, looking back, I can only say one thing:

Totally worth it!
​
Last edited: