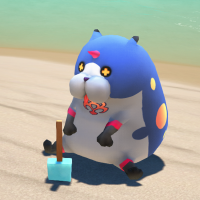 Site Staff Manager
Staff member
5 story quests have been added (No. 836~840). Thanks to goldpanner, you can watch the scenes with English subs!
(Player and Chirithy arrive in Agrabah.)

Chirithy: I wonder how Aladdin and Jasmine are getting along.

They live in the palace, right? We should ask the guards.

Hakim: Oh, it's you. Here for Aladdin again...

I mean, have you come to see Sultan Aladdin?

Unfortunately, Sultan Aladdin and Queen Jasmine have departed for the desert oasis. On a date, it seems.

I'm sure they'd be happy to see you. By all means, please pay them a visit!

(Aladdin and Jasmine are relaxing by the oasis as Carpet and Abu play around. Player's visit surprises them.)

Aladdin: Hey there! It's been a while.

Jasmine: I'm so glad you've come.

Aladdin: Don't tell me you crossed the desert just to see us?

(Player nods.)

Aladdin: Oh jeez, I'm really sorry about that. We tend to go on trips if Carpet's around to take us for a ride.

Jasmine and I were just talking about going \Nto another country. Genie's been traveling too, you see.

Jasmine: I want to see a whole new world with you, Aladdin.

(The two share a moment but are interrupted by Abu and Carpet making fun of them.)

Aladdin: Cut it out, guys, it's not like that!

(Aladdin turns to Player.)

Aladdin: I'll be looking forward to our next adventure together.
(Player rests on the hill overlooking Daybreak Town. They raise their Keyblade in the air and gaze at it. Chirithy approaches.)

Chirithy: The Keyblade… The power of light, to drive back the darkness. 

Not just anybody could have brought out such an overflow of light. It's because you were the one wielding it.

You are the one who protected the smiles of the people in the world we visited today.

Yeah, yeah, be confident. You should be.

I got a reward for my little go-getter!

Tadaaah! Sea salt ice cream.

Let's keep on doing our best, together.
---
The Great Restoration Campaign has been extended until 10/10! Players have more time to collect Campaign Coins and redeem them for rewards in the special boards.
---
5 quests have been added to the Chasm of Challenges (No. 16~20).
---
Chirithy and Strong Warrior avatar boards return from 9/14~9/21 for 2000 jewels each!
Chirithy costume
Scrooge★6
(Ability1 & Attack XL III 100%) x 1
Scrooge★6
(Lux2 & ATK XL 100%) x 1
Scrooge★6
(Second Chance 100%) x 1
Magic Mirror x 5
Mickey & Broom Servants x 1
Broom Servant x 1
Wing Stone x 1
Huey & Dewey & Louie x 4
Cid5 x 1
Chirithy costume x 1

Chirithy costume coin purse

 x 1

Chirithy Style

 x 1
Strong Warrior
Scrooge★6
(AbiPrize & ATK XL III) × 1
Scrooge

★

6
(Lux & Attack XL II 100%) × 1
Scrooge

★

6
(Guard Up XL) × 2

Magic Mirror★6 × 5

Mickey & Broom Servants★6 × 1

Broom Servant★5 × 1

Mystic 

Stone 

x 1

Huey & Dewey & Louie

★6 x 2

Cid5★6 x 2

Strong Warrior 

× 1

Strong Warrior helmet x 1

Strong Warrior gloves x 1

Soldier's Braid 

 x 1
 
| | | | |
| --- | --- | --- | --- |
| Category | Avatar Part Name | Luck Type | Effect Value |
| Chest1 | Chirithy costume coin purse | Skill Luck | +3 |
| Hand | Strong Warrior gloves | Skill Luck | +6 |
---
Daily Time Attack returns from 9/14~9/20! Clear the quest every day to earn rewards like Chip, Dale and Cid medals! All the objectives must be cleared in a single run.
---
Sephiroth has arrived in a brand new scenario event for the 3rd anniversary: "The Black Wing Descends"! From 9/15~10/7, clear 12 quests to earn rewards like Huey & Dewey & Louie medals and the "One Winged Angel" title.