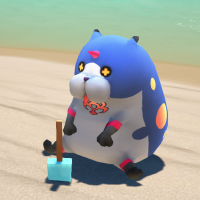 trapped in revamp hell
Staff member
Premium Quests for 8/19~8/25:
Goldfish (Drop Luck+6)
KHIII Xemnas [All Targets | 0 SP cost | 200~280%] For 1 turn: Increases Reverse Medal ATK+1500, Reverse ATK+15, ATK+15, Power ATK+15 and Guilt+200%. Inflicts 4 hits that deal more damage with more SP remaining
(AOE) Super Burst: For 1 turn: Decreases enemy Reverse DEF-15, DEF-15 and Power DEF-15, increases Guilt+280%. Raises Counter+3, activates before the 3rd slot in PVP
(This medal is available each week until the week of 8/26 (total 4 times)
Tier9 Meow Wow SP&NM x5
Mickey & Broom Servants x6, 3 types of gems x10
---
Special Draw is available for today only! Players are limited to 1 pull, which guarantees 1 of 10 medals that can be upgraded to , with bonus 1 Tier9 Meow Wow SP&NM and 10 L/R VIP coins.
Available medals include:
Riku=Replica
Ventus HD Ver
KHIII Sora
KHIII Lea (Axel)
KHIII Sora GF Ver
KHIII Marluxia
KHIII Sora BF Ver
KHIII Sora TC Ver
KHIII Terra
KHIII Sora UF Ver
---
Raid Boss Event is updated for 8/19~8/25! Defeat the Demon Tide and earn coins to get rewards like Broom Servant and Magic Mirror medals.
Bonus Time is held from 12:00~12:59 and 22:00~22:59 JST, during which AP costs 0 and players will obtain more Lux.
---
Union Cross is updated for 8/19~8/25! Clear quests to earn coins and redeem rewards like the Minnie Mask accessory, which grants Critical Luck+5.
There are 4 sets of Cross Boards available:
(1) Magic Mirror set 1
=> Magic Mirror set 2
(2) Broom Servant set 1
=> Broom Servant set 2
(3) M_Minnie Mask
(4) L_

Minnie Mask
Challenge Boss Time is held from 19:00~19:29 and 23:00~23:29 JST, during which players will receive more coins by defeating the boss.
---
High Score Event is held from 8/19~8/25! Rank as high as you can to earn lots of magic gems and skills.