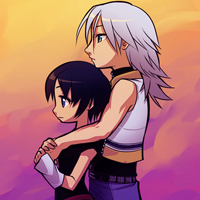 Joined

Jan 31, 2008
Messages

16,306
Awards

5
Age

36
Location
Website
~♦~ The Riku-Mickey BFFness club! ~♦~
How friends should be
This is a fanclub to the infamous duo from Chain of Memories: Reverse Rebirth, Riku and Mickey.
Because when Riku needed a kind word, a warm smile and a hand to be reached out to him, Mickey offered all of those non conditionally. At Riku's worst, Mickey still believed in him and in his light, and was there for him through thick and thin. And in return, Riku did what no one else possibly could've, and showed Mickey that no, Darkness didn't have to be vile and horrid, but just and warm, to the point he refused to do anything but save this young man who charmed him so - and let him be the only one to call him by his given name.
Because c'mon. Who here really didn't get a warm and fuzzy feeling from them?
Last edited: