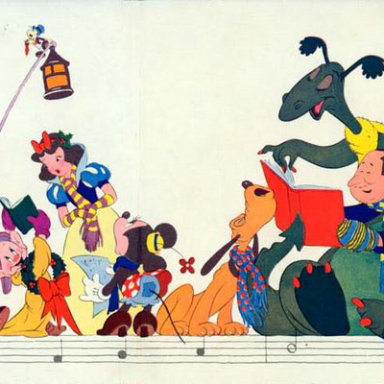 Joined

Oct 21, 2011
Messages

2,751
Awards

13
Website
Hey hey Fellow Insiders,
I had been thinking about it earlier this year, but the (spiffy, cool) auto-award (a la
@Antifa Lockhart
) notification reminded me that I've now been around
10 years
, and I needed to make a post here. Being around that long, well, it's just another mortality check to bomb
@Meilin
's
thread
with. 😅 When I joined on 10.20 ten years ago, I wasn't active in many online communities. Not sure you could even say I'm all that active here with less than 3K posts to show for the past decade; I am more reserved by nature. But I thought I'd try to share a bit on my history here, and maybe jog a few other folks' memories if anyone cares to read all this.
The first leg of my journey to find a KH news pit-stop, as it was for many others, was due to the anticipation of (a then seemingly no-brainer called) KHIII. From KH2-era through around 2010 I was primarily getting my info from the now defunct KH Ultimania (see: kh2.co.uk). But during those latter years I was getting my news from
various
sources, and one of them was
this
handy site! When the time came for it I was so keen on gobbling up Birth by Sleep news, and if memory serves, I just preferred the way KHI formatted their news. I loved to swing by for the latest headlines. I'll never forget those epic trailers that ended up leaving a lot on the cutting room floor. At the time I worked graveyard at a hotel, and seeing Aqua sternly check Maleficent on her bs before she bursts into a dragon gave me the jump of adrenaline I needed to make it through those zombie shifts. I bought a PSP (solely for a KH game, back when we did such things) to keep me company during those nights. But I digress.
BBS was such a positive experience for me that I was determined to stop lurking and dive into the forums... eventually, a year after its NA release, settled on this screenname (which I may or may not share the reasoning behind one of these days, perhaps when I can change it at 3,000 posts. Oh, wait-), and ramped up for the next big "spin-off". And when it happened I was finally inundated with all the theories and speculation swirling about and had users like
@Sephiroth0812
to course-corrected me with encyclopedic knowledge of the series when I was off.
It's been fun, interactive ritual checking in on the news and whatnot since then. Mostly, though, I just wanted to share some of my fonder memories here. Trying for chronological order:
- Waiting for Dream Drop Distance. This game will always have that touch of nostalgia that no other game has,
because
it was the first one I waited
with
the community for, not just as a spectator. Re:coded was nice, but it was.. Re:coded, and I technically joined well after its Western release. This was a much more substantial and exciting time for us. It finally pushed me to play The World Ends with You on my (original model) NDS, and it was very much worth the playthrough for its own merits, but enriched DDD, just as I felt playing the FFs did pre-KH1. Which brings me to that next gen hardware.
- The 3DS (and the gimmick of 3D) was released and reaching its crescendo. We had this fairly new system and games like Theatrhythm to pass the time with until DDD's release. I still have that
Aqua
Blue machine and am currently revitalizing it with some cosmetic upheaval and homebrew. Anyhow, using the 3DS tags in our signatures, we (
@Oracle Spockanort
,
@Taochan
, etc) played with the (now defunct.. seeing a sad trend of bygone days?) Swapnote. We would draw notes and pictures to eachother, the latest news/hype reactions or stuff just for funsies. It was very cute, and I still have all mine saved.
- Getting to write a featured article (about the manga re-release) and then discuss it with everyone. It's very poor when I look back on it, so thank you, mods, for letting me get creative during a news dry spell.
- When 1.5 was announced, I think we collectively shit ourselves. KH in HD! So cool. After a launch party for the event some of the fine folks of the forum attended, they were able to send me a free copy of the poster that recreated Nomura's original concept art (used for the KH1 cover art), which I now have in an expensive frame hanging on my KH-themed wall (pictures available upon request). It's a forever keepsake, in part,
because
it was from KHI and not just some randomly procured merch. I believe
@Sign
sent it to me. Again, thank you so much.
- Working on the KH1 10th anniversary mural. We collaborated to make art! How cool is that??? (Still, great job
@Zephyr
and everyone involved.)
- Playing KHUχ. Was it the multiplayer experience we dreamed of? No. But it's still the closest, most accessible offering the series had, and some of us got to taste that level of an experience together, and that, for me, made it feel just special enough to savor. #teamjasminedragon
- KHIII, divisive as it was for the fandom at large, finally saw fruition, and it was something we all experienced a ride on the hype-train for. That was a pretty great time, at least, riding the wave of rushing endorphins.
- Getting to know the community. I want to say most of my interactions here have been pretty great, and I hope in some small way I have helped make others feel the same. I'm not the best at getting my point across, and maybe I haven't always gone about it in the right way, but my intention is to do my part to help make a safe space for the fandom. KHI is my hub like KH1!TraverseTown, and I hope it continues to be so. Just a few people I'd like to that for some pleasant interactions with and / or show admiration for (in no particular order):
@alexis.anagram
@SweetYetSalty
@Absent
@2 quid is good
@Soldier
@Max
&
@Elysium
.
Thank you all for your kindness over the years. I hope I have been KHI continues to be a place to nurture your passions and make some of your own sweet memories. 💕