Details

Published on February 10, 2012 @ 09:05 pm
Written by Cecily
Written by Cecily Lam Saturday, 11 February 2012
It was certainly no surprise when Mickey Mouse's arch-nemesis, Peg Leg Pete, first appeared in the early beta trailers for Kingdom Hearts II. This feisty duo have butted heads several times over throughout the past few decades, the scrawny, mischievous little rascal versus the larger, bumbling but cunning fee-fie-foe. It was only natural that their rivalry transcend universes and into that of Kingdom Hearts, and yet, you can't help but wonder...
Of course while it was or should have been expected by those familiar with the character that Mickey, as the iconic figurehead of all things Disney, would become the awe-inspiring King of Disney Castle, Keyblade Master extraordinaire. But what about Pete? What about the lova- okay, he's not very lovable... exulta- well, maybe not the right word to use in this situation... crafty! What about crafty ole Captain Pete, once the fine owner of steam boat that captured many an innocent eye by all its glory, turned a wily ne'er-do-well turned malevolent villain? He's become the partner-in-crime to the mistress of all evil, Maleficent, a position countless other individuals would kill to have, having gained her trust despite the events of the past and now work directly and indirectly by her side. This sinister evildoer, having come so far since his simple roots, was banished forever from his home world for disrupting an ice cream party? Er, why don't we go back to the beginning?
And of course by beginning, I mean Timeless River. As far as we know, this world exists as a portal into the past of Disney Castle, long before monarchy was established, to a time when the surrounding town was just starting to blossom, with the castle's construction not yet begun. Just look at it in awe, the humble beginnings of the boat-boy King and his Captain! It was a simple time, maybe a better time, and maybe not. In correlation to the first sound cartoon of which the world is based after, Steamboat Willie, Mickey serves as Pete's not-so-reliable deckhand aboard his pride and joy of a steamboat, the envy of all passerby. While their relationship may have been rather violent and abusive, the two of them got along enough to get by. What went wrong, Capitan? Maybe if we progress a few years, we'll see.
Let us assume for the moment that Sora is indeed correct in asking,
"ここわ、俺が知らない時間に王様がいた世界?"
(Is this a world in a time when the King doesn't know me?)

[1]
An unrecognizable world but although different, the familiar faces you see there are indeed one in the same as those you've learned to know like the back of your hand. Let us assume that like Traverse Town, Country of the Musketeers is,
"同じだけど全く違う別の世界。"
(Another world, exactly the same and entirely different.)

[2]
Disney Castle in the present, Timeless River in the past, and Country of the Musketeers somewhere in-between those two time periods. Sound about right?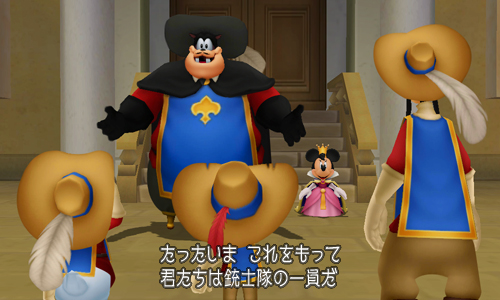 As you know, Country of the Musketeers is based off of the direct-to-video animated film: "Mickey • Donald • Goofy: The Three Musketeers."In accompaniment with the original tale of The Three Musketeers written by Alexandre Dumas in 1844, the film is set in 17th century France. Years after Mickey, Donald and Goofy were saved by the legendary Musketeers d'Artagnan, Athos, Porthos and Aramis, they aspire to become such brave heroes themselves. During this time, Pete serves as the Captain of the Royal Musketeers. A rather prestigious position, no? But apparently not enough to satiate his desires. He has to aim bigger, and what better way to rise up than to kidnap the princess and designate himself king through nefarious means?
Bear with me for a moment as we jump back to reality briefly. What would have happened in our world had a Royal Captain of the Musketeers turned traitor tried to kidnap and even assassinate not only the princess, but also her bodyguards, members of the elite Musketeers, regardless of the lie their inclusion was initially established upon? That's right, the punishment would be death. The tool of choice? Well, even though Pete may have used the guillotine on Donald in the latter half of the film, the instrument itself specifically wasn't "invented" until the final years of the 18th century. The breaking wheel would be just a couple centuries off, having been used primarily during the Middle Ages and was replaced with the guillotine prior to the French Revolution. If anything, I'll hazard a guess that there's a fairly good chance it would have been death by burning. Certainly wouldn't have been the first time this, at least attempted, would have appeared in an animated Disney film. Well, whatever it was, you can expect that it must have been dreadful. For treason, kidnapping and attempted assassination, one doesn't just simply get off with a slap on the wrist. If we're right, no doubt this is the ultimate source of what Minnie is referring to:
"I've tried to forgive a lot of things you've done, but this is too much. Now you've finally crossed the line."

[3]
But wait, we're forgetting the events that took place amidst the Dream Festival! When Terra was there, Pete, or should I say, Captain Dark, had been abusing the good graces of the queen and his fellow citizens, taking advantage of their kindness and cheating in the events. With absolutely no regard for the rules or the welfare of other participants (even if it's perfectly legal to attack your opponents during the race in one aspect), he ravaged the Rumble Racing Course, pulling every trick up his sleeve to make sure he'd reach the finish line first. During Ven's visit, he played hero and, upon failure, attempted to destroy the precious device entrusted to Huey, Dewey and Louie by their Uncle Scrooge after it refused to restart when he "fixed" it. During Aqua's presence, he continued the hero act and simply caused more trouble in the Fruit Ball arena.
According to Queen Minnie, the final straw was his utter disregard for the hearts of the citizens of Disney Town, those who had casted votes for him despite his misdeeds because from the bottom of their hearts, they believed in him. They believed that he was deserving of the Million Dreams Award even after everything he had done over the years.
What is the Dream Festival? I'd say it's a celebration meant to commemorate the dreams that flow unbound from the hearts of the everyone within the world, perhaps even the dreams of the world itself. They act as pillars to sustain the world, the purity of the support and belief keeping it afloat. But dreams are so much more than that. They represent our greatest desires and goals, they keep our once lost memories alive, and within them lie an entirely new world where anything is possible.
What is the Million Dreams Award? It is an award, perhaps tangible, perhaps not, that goes to the person most deserving in the Dream Festival. Ideally, I believe that this individual best represents the true meaning of "what dreams are made of." He or she would be sincere and strong in their own way, keeping the genuine qualities of dreams alive and untainted by obstructions. Someone in their own way would support everyone in their endeavors and won't even be afraid to intervene for their sake. Someone who makes all others feel right and true.
Indeed, simply by these definitions alone, Pete would not be deserving of such prestige. But it's not about the award. Material items don't matter; it's what's inside that counts. And when Pete leaped onto the stage still pulling his ridiculous hero/villain alter ego act insisting that he should have won the contest, when he not only demanded that he receive the prize regardless and began to reach forward to assault the queen for his prize, it showed much more than just his poor attitude. He didn't care about anyone but himself. He didn't deserve the prize. He didn't deserve the affection of the citizens. He didn't deserve to be given leeway time and time again after all that he had done. For that, he didn't deserve to remain in that world, and for the time being, Queen Minnie banished him to another dimension.
"I'm going to let you cool off for a while."

[4]
It was only meant to be temporary. If everyone forgave him for everything up until that point, then no doubt they would do so again. But Pete left before the portal reopened to take him back home. Perhaps he'll never know that his banishment was never intended to last forever. In the end, it's up to him to decide whether he wants to return home. Is P.J. eagerly awaiting for his father's return with Peg and Pistol? Or even if he has no one there to welcome him back with open arms, will Pete be able to bring himself to keep moving forward to reach it? I don't believe anything is a matter of can or can't, but will and won't. One thing's for sure: it isn't time to weigh anchor for ole Captain Pete. No matter what may have happened in the past, it's past for a reason and there's nothing to do but keep moving onto the future!
[1] Sora says this to himself in the Kingdom Hearts Dream Drop Distance Jump Festa 2012 trailer after Mickey tells him that he knows about the Keyblade and other worlds in Country of the Musketeers, having come from another one himself to achieve a certain goal.
[2] Joshua discusses with Riku in Traverse Town in the Kingdom Hearts Dream Drop Distance Jump Festa 2012 trailer about the world they're currently in, having for some reason been split into two.
[3] Minnie scolds Pete during the presentation for the Million Dreams Award in Kingdom Hearts Birth by Sleep.
[4] Minnie makes her decision after taking into consideration his many acts in the past and his current behavior in Kingdom Hearts Birth by Sleep.
©2016 KHInsider. KINGDOM HEARTS official artwork, trailers, characters, merchandise, and music is copyrighted to Square Enix and Disney.
Original material is licensed under a Creative Commons License permitting non-commercial sharing with attribution.
Please read our privacy policy for more information | Legal Information