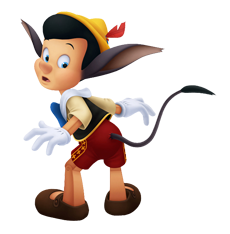 First Appearance: KINGDOM HEARTS (2002)
Origin: Pinocchio (1940)
Japanese Voice Actor: Yasutomo Yamaguchi
English Voice Actor: Nick Carson
A dream version of the little wooden puppet brought to life by Geppetto and the Blue Fairy.
Pinocchio, Jiminy and Geppetto escaped the destruction of their world, but as their world fell to darkness and began to dream, the sleeping world dreamt that Pinocchio and his family had never left.
This version of Pinocchio is just as eager to prove his worth and become a real boy. However, the road to his dreams isn't easy, and Pinocchio falls to the temptation of the alluring theme park Pleasure Island. Pinocchio falls to the playground's traps and slowly begins to turn into a jackass. Upon escaping the park with Sora's help, Pinocchio learns from the Blue Fairy that his father was swallowed by the whale Monstro while he was searching for Pinocchio.
Resolved to make it right, Pinocchio and Jiminy jump into the sea to confront Monstro.
On Riku's side of the dream world, Riku is finds himself inside the belly of the whale with Pinocchio, Geppetto and Jiminy. Riku is determined to atone for his past mistakes with Pinocchio and when the little puppet goes missing, Riku dives into the bowls of Monstro to make it right.
Pinocchio's world is released from its slumber by Riku and Sora, and the real Pinocchio in the outside world has been reuinted with his father and made into a real boy at last.