Peg Leg Pete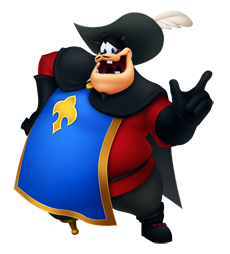 First Appearance: KINGDOM HEARTS II (2006)
Origin: Mickey · Donald · Goofy: The Three Musketeers (2004)
Japanese Voice Actor: Toru Ohira
English Voice Actor: Jim Cummings
This dream version of Pete is Captain of the Musketeers and appoints Mickey, Donald, and Goofy to guard Princess Minnie.
Unfortunately, this Pete is just as dastardly as the one in the outside world and he's schemed to take over the throne by replacing Princess Minnie with a double, and apointing himself the new ruler of the land.
Sora, Donald, Goofy, Mickey, Minnie and Riku fight against Pete's machincations across alternate realities, and though divided, their teamwork puts a stop to him.
©2016 KHInsider. KINGDOM HEARTS official artwork, trailers, characters, merchandise, and music is copyrighted to Square Enix and Disney.
Original material is licensed under a Creative Commons License permitting non-commercial sharing with attribution.
Please read our privacy policy for more information | Legal Information