Princess Minnie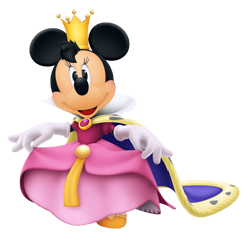 First Appearance: KINGDOM HEARTS 3D [Dream Drop Distance] (2012)
Origin: Mickey · Donald · Goofy: The Three Musketeers (2004)
Japanese Voice Actor: Yūko Mizutani
English Voice Actor: Russi Taylor
The dream version of Queen Minnie from her days as a Princess.
Princess Minnie rules over the Country of the Musketeers with courage and hope, but when an attempt is made on her safety, she requests extra coverage and is protected by a new squad of muskateers: Mickey, Donald and Goofy.
She's struck instanstly for Mickey's charm and humor and falls for him, but unfortunately she is kidnapped by Pete and his goons. While Sora and the others try to stop Pete in one reality, Minnie and Riku team up in another to save them from Pete's traps.
Minnie appoints Riku an honorary Musketeer and reclaims the throne with Mickey by her side.
©2016 KHInsider. KINGDOM HEARTS official artwork, trailers, characters, merchandise, and music is copyrighted to Square Enix and Disney.
Original material is licensed under a Creative Commons License permitting non-commercial sharing with attribution.
Please read our privacy policy for more information | Legal Information