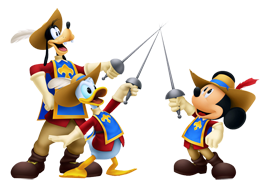 First Appearance: KINGDOM HEARTS (2002)
Origin: Mickey · Donald · Goofy: The Three Musketeers (2004)
Japanese Voice Actor: Takashi Aoyagi
English Voice Actor: Bret Iwan
A dream version of the King we all know and love. This version of Mickey knows all about the Keyblade but is keeping a low profile as he investigates a problem happening in this world.
Here, Mickey dreams of being an official musketeer and keeping the kingdom safe, perhaps even winning the attenion of the Princess, Minnie.
Mickey and his best friends go from the castle's clean up crew, to the Princess's official bodyguards.
But, as Mickey discovers, he and Donald and Goofy have been entrapped in a dastardly scheme by Captain Pete - who's looking to use their inexperience against them as he kidnaps the Princess and conspires to crown himself King.
Assisted by Sora, Donald and Goofy, Mickey puts a stop to Pete's plans at the royal opera just in the nick of time.