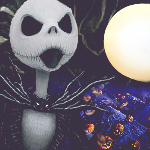 Keyblade wielders, may the light find you well as always! Welcome to this week's issue of Kingdom Hearts χ[chi] maintenance update report!
It's been a week since the last maintenance. This maintenance, lasting from 13:00 to 16:00 JST on Thursday, 9 October 2014, introduced to us Halloween event, new field Heartless, and brand new sweets-hunting mission series! That's right, it's trick-or-treat time!
As usual, let's get down to business and tackle on the ...